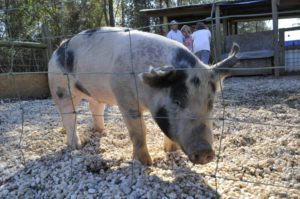 Two Escambia County commissioners are appearing hesitant to pull the trigger on moving forward with the planned 4-H center on Stefani Road.
"There's such a misunderstanding out there," Commissioner Wilson Robertson said during this morning's work session. "We should not do anything until we get better clarification to the public."
Robertson and Commissioner Steven Barry expressed concerns about some members of the 4-H community believing that the county might tap into the money the organization received when it sold its rural Langley-Bell property to the expanding Navy Federal Credit Union last year. Under a Memorandum of Understanding between the county and 4-H, Escambia has committed $1.5 million of Local Option Sales Tax (LOST)    funds to the Stefani Road project, which is meant to house 4-H operations.
The local 4-H was paid $3.6 million by Navy Federal for its 240 acres. Two million was sent up the 4-H chain to Gainesville, and $1.6 million was kept locally.  The organization has expressed a desire to use those funds to purchase a couple of hundred acres to be used for livestock purposes.
"In my opinion, the $1.6 (million) is a separate discussion for a separate time," Barry said. "I'm glad to have the discussion. This is exactly what I wanted to get on record."
Both Robertson, who sits on the 4-H Foundation and Barry, who's district the property falls within, felt it might be good to delay awarding a $170,000 architectural and engineering job for the new center on Stefani Road. They suggested holding off for another 30 days.
"I don't want anyone or any group to feel like something is being railroaded, you know, down their throats," Barry said. "It's clear to me, I just want to make sure that it is clear to the public as well."
The commissioners were told that the plan was to construct the Stefani Road building within the scope of the $1.5 million available. They will decide during tonight's commission meeting whether to approve awarding the design job or continue discussing the issue.
Robertson suggested that perhaps Barry could reach out to members of the 4-H community over the course of the afternoon.
"We need to communicate with a half a dozen key leaders that deal with the livestock," Robertson said.
Tonights commission meeting begins at 5:30 p.m. at the county's downtown complex. Public forum is scheduled for 4:30 p.m.