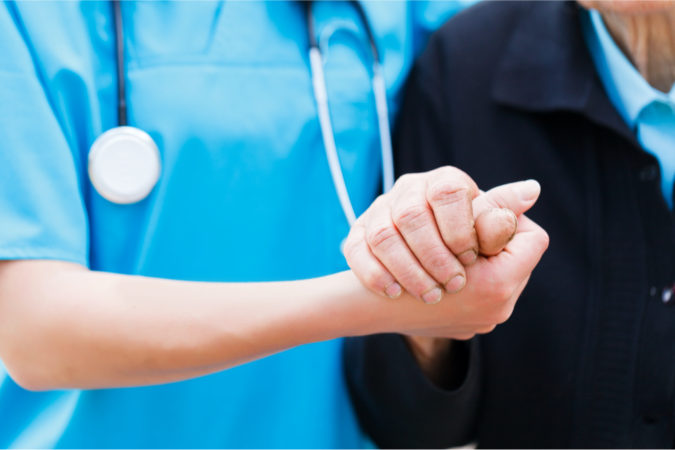 Escambia County picked up 11 more cases since 6 p.m. Sunday – total 235.  The state now as 20,601 cases and 470 deaths.
While Florida's testing has increased over the past week, the percent of those testing positive for COVID-19 overall is 10 percent. Of the 9,719 tests performed on April 12, there were 1,045 positive results, or 11 percent.
DOH reports nine people have died who tested positive for COVID-19 in Brevard, Lee and Palm Beach counties.
At his Monday presser, Pensacola Mayor Grover Robinson said that he believes the county should name the long-term care facility that is highly infected with the COVID-19 virus. Inweekly sent a email to County Administrator Janice Gilley if she had changed her position on not providing the public the name. She has yet to reply.
One reader shared with Inweekly on Easter Sunday: "The county not sharing information with families is heartless, cruel and irresponsible."
Gilley also has not responded to the newspaper's request for daily press briefings.
The SitRep reports no longer mention the status of the unnamed facility.
| | | | | |
| --- | --- | --- | --- | --- |
| | 4/12/20 | 4/11/20 | | |
| | 6 p.m. | 11 a.m. | Increase | |
| Total Cases | 19895 | 20601 | 706 | 3.55% |
| Florida Residents | 19337 | 20035 | 698 | 3.61% |
| Non-Fla. | 558 | 566 | 8 | 1.43% |
| Deaths | 461 | 470 | 9 | 1.95% |
| | | | | |
| Escambia | 224 | 235 | 11 | 4.91% |
| Okaloosa | 101 | 102 | 1 | 0.99% |
| Santa Rosa | 109 | 112 | 3 | 2.75% |
| | | | | |
| Broward | 2945 | 3105 | 160 | 5.43% |
Top 20 Counties
| | | | | |
| --- | --- | --- | --- | --- |
| Rank | County | Population | Cases | Per 30K |
| 1 | Dade |     2,715,516 | 7241 |           80.00 |
| 2 | Broward |        924,229 | 3105 |         100.79 |
| 3 | Palm Beach |     1,446,277 | 1691 |           35.08 |
| 4 | Orange |     1,321,194 | 1017 |           23.09 |
| 5 | Hillsborough |     1,378,883 | 790 |           17.19 |
| 6 | Duval |        924,229 | 692 |           22.46 |
| 7 | Lee |        718,679 | 632 |           26.38 |
| 8 | Pinellas |        957,875 | 470 |           14.72 |
| 9 | Collier |        363,922 | 375 |           30.91 |
| 10 | Osceola |        338,619 | 333 |           29.50 |
| 11 | Seminole |        455,086 | 267 |           17.60 |
| 12 | Polk |        668,671 | 263 |           11.80 |
| 13 | Manatee |        373,853 | 250 |           20.06 |
| 14 | Escambia |        311,522 | 235 |           22.63 |
| 15 | Sarasota |        412,144 | 233 |           16.96 |
| 16 | Volusia |        527,634 | 212 |           12.05 |
| 17 | Alachua |        263,148 | 183 |           20.86 |
| 18 | St. Johns |        235,503 | 175 |           22.29 |
| 19 | Pasco |        510,593 | 166 |             9.75 |
| 20 | St. Lucie |        305,591 | 156 |           15.31 |