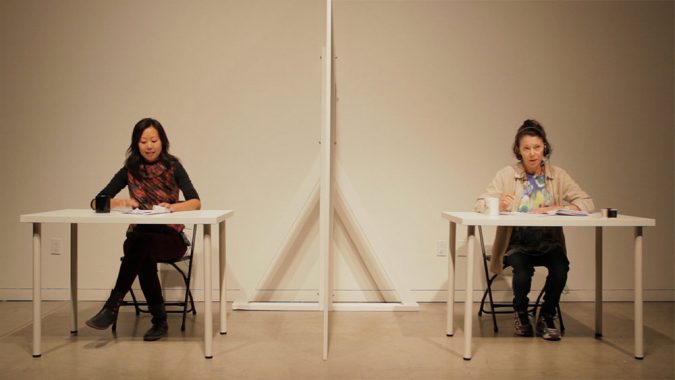 By Jeremy Morrison
In a new exhibition currently showing at the Pensacola Museum of Art — artists explore the intersection of fine art and humor. The art featured in "… I Forgot To Laugh, Humor & Contemporary Art" isn't necessarily funny in the traditional sense, but rather incorporates elements of humor in addressing serious subjects.
One artist participating in the exhibit is San Francisco Bay Area-based Christy Chan, a multi-media artist working in video installations, films, and public art.
"Much of my work comes from my long-standing criticality of our country's claim to be post-racial," Chan shared with Inweekly. "Growing up in the South in the 80s, I lived in a town that had an active KKK and originally said 'whites only' in the town charter. When my family moved there, we were among the first immigrant families and there was quite a bit of hostility, as you can imagine."
Chan draws from her childhood experiences when creating her art, with an aim of "exposing the power structures and cultural norms in our country that maintain racial inequity," Chan said.
"I'm also interested in revealing the ways that our capitalist system and economy is complicit in—and actually benefits from—supporting structural racism." Chan continued.
The piece featured in this PMA exhibition is entitled "Long Distance Call," and is a video-recreation of a series of phone calls during which the artist attempted to order KKK robes from an Alabama seamstress. The robes come in cotton or satin, but the seamstress seems suspicious and balks at shipping them to San Francisco—plus, she tells Chan matter-of-factly that Christmas is coming and that's her busy season.
"What people may be finding absurd or surprising in this video is the way American capitalism actually makes it possible and ordinary for hate groups to function like any other organization," Chan said.
"This work was created in 2013 during the Obama administration and a time during which I heard many white Americans expressing that they believed structural racism was now over," she said, adding that her own research was instead finding a resurgence of hate groups such as the Klan.
When Chan first debuted this art, the response was different than it is today when the issue of systemic racism has taken center stage and protests against police-killings of Black people have erupted across the country.
Back then, the artist said, reaction to her work was a bit dismissive, as if it addressed a problem long solved.
"When I first showed this work in 2015, a California journalist asked me if these videos could be considered contemporary or relevant, given that most 'racism is fringe,'" Chan recalled. "And the owner of a yoga studio wrote me a note and said she was upset by the work and hoped I would take up yoga or fitness instead of forcing outdated stories on people."
Today, Chan's work addressing power structures, cultural norms and racial inequity seems hyper-relevant.
"The response to this work has been interesting to see, because it is changing and will keep changing," Chan noted.
Chan's "Long Distance Phone Call" will be on exhibit at the PMA through January. Other artists featured in the "… I Forgot to Laugh" exhibit include Caroline Wells Chandler, who explores the issues of bodies and boundaries with colorful crochet, and Lauren Ruth, who addresses the subject of surveillance with giant, reflective eyeballs, among others.
To read more about PMA's "… I Forgot to Laugh" exhibit, check out this week's issue of Inweekly.
---
Christy Chan
Art & Films: www.christychan.com
Freelance: www.storyvore.org
Follow me on Instagram
On View:
Public Art:  "All is Not Lost," The Wassaic Project, New York (through Oct. 2020)
Public Art:  "Art For Essential Workers," with 100 Days Action, San Francisco
Visiting Artist: Mills College Art Museum, Oakland, CA (through July 2021)
Filmmaker-in-Residence: SFFILM, San Francisco (through Dec. 2020)