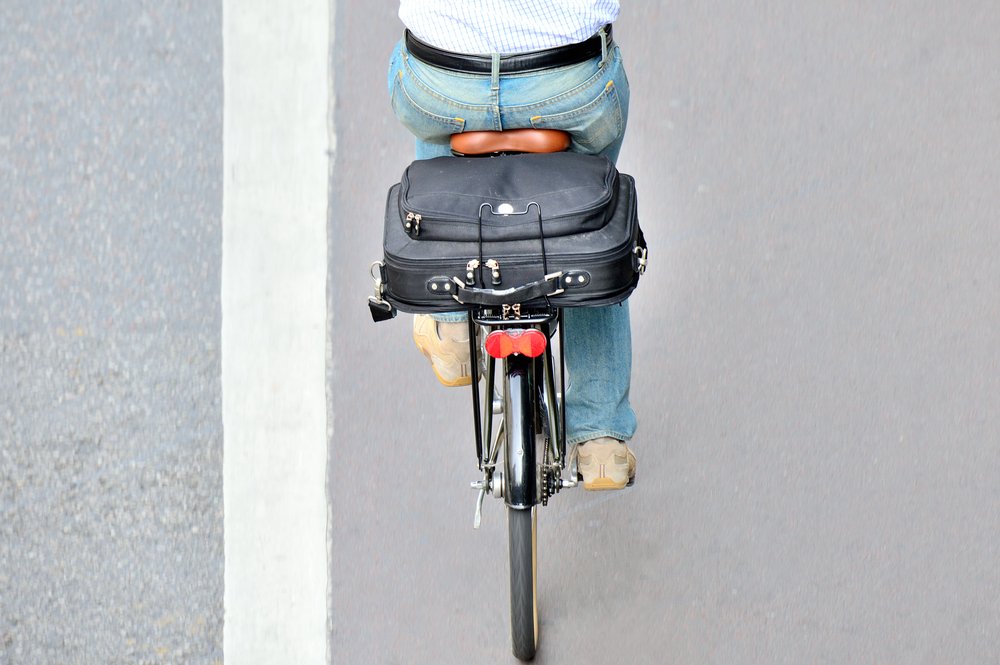 By Jeremy Morrison, Inweekly
The city of Pensacola may be scrapping its Bicycle Advisory Committee. Officials discussed dropping the committee and creating a board to focus on establishing a Complete Streets ordinance.
"What we really need is a Complete Street plan," said City Councilwoman Sherri Myers during city council's Monday agenda conference.
The Bicycle Advisory Committee falls under the city's Parks and Recreation department, and its mission is to make recommendations to improve the city's bikeability. Myers said she was concerned that the nine- member board wasn't meeting quorum because the lack of attendance.
She told her fellow council members, "They're only three active members."
Mayor Grover Robinson agreed the committee's mission could be rolled into a Complete Streets board.
"I think the Complete Streets is certainly where we're headed," Robinson said.
Complete Streets is a planning approach that emphasizes pedestrians over vehicular traffic, attempting to make the landscape safer and easier to traverse. The approach accommodates cyclists.
"I'm 100 percent on everything you've said," Robinson told Myers.
The mayor did caution the councilwoman, however, on disbanding the BAC prior to establishing a Complete Streets committee: "It would seem to me you'd set these two things to happen concurrently."
As the discussion between city officials unwound, it became apparent that there was more at issue than the issue of the BAC making a quorum. Myers was also concerned about what she says is the group's focus on recreational cyclists over people using a bike as their prime mode of transportation.
"Bicycling should be viewed as a form of transportation, not recreation," she said, contending that Complete Streets planning treated cycling more appropriately.
Also, Myers was not happy that the group had circumvented the city council over the summer when it forwarded a list of cycle-centric projects to the TPO for potential funding. And she said they weren't keeping minutes of the board's meetings.
"It was hard to tell what they were doing," Myers said.
Councilwoman Ann Hill, however, said she had attended a recent BAC meeting and found the group's work valuable.
"It was very informative," Hill said, suggesting that perhaps some BAC members could jump over to the new Complete Streets board.
Council President Andy Terhaar advised Myers to confer with city staff prior to Thursday's council meeting and see if she could adjust her recommendation to sync the ending of the BAC with the establishment of whatever eventual board oversees the city's Complete Streets efforts.
City Attorney
Also, during Monday's agenda session, council paved the way for approving Mayor Robinson's pick for city attorney, Susan Woolf. The mayor said Woolf was "more than competent" and that the attorney would help establish "more of an in-house legal department."
While his predecessor often outsourced the city's legal work, Robinson said there will continue to be certain times outside legal counsel is sought, such as when someone specializing in environmental law is needed, but he planned to keep much of the city's legal work in-house.
City council looks set to offer their consent for Woolf on Thursday. Also on Thursday, the council will discuss its meeting schedule for the year, likely approve a resolution supporting Project Titan at the airport as a Qualified Target Industry in order to realize tax refunds, and discuss potential safety measures that could be implemented on Garden Street.
Styrofoam-free City Hall
Another matter to come before council on Thursday will be a discussion regarding the establishment of policies aimed at ridding Pensacola City Hall of "styrofoam, plastic bottles and other non-environmentally friendly items." The move stems from a recent recommendation from the city's Environmental Advisory Board.
"I doesn't seem that difficult and I think it would be a great way to show we support our boards and committees and also the environment," said Hill.
Mayor Robinson said the administration was already working in this direction: "On the seventh floor we've been putting out our mugs."
Councilwoman Myers suggested that perhaps water bottles could be phased out in favor of filtered water dispensers. And Councilman Jarad Moore nodded toward reusable metal straws.
"I saw Mr. Wu had one of these metal straws," Moore said. "I have since picked up myself one of these straws."
Myers is also pushing council to adopt purchasing policies that reflect a social-justice-friendly position: "I would like to look at purchasing fair trade coffee for instance."
Re-naming Bridge
The council will also consider this week what to name the new bridge currently being constructed over Pensacola Bay. The council is considering suggesting to the state legislature that the bridge be called the General Daniel "Chappie" James Jr. Memorial Bridge.
Councilwoman Jewell Cannada Wynn said that regardless of what the bridge was named, it would still be called the "Pensacola Bay Bridge." To her point, none of the council members knew the namesake of the current bridge until someone looked it up on the internet (opened in 1960, it's named in honor of Florida Senator Phillip D. Beall).
Mayor Robinson suggested to council that they could consider recommending that the legislature name each directional lane of the bridge something different, since technically they constitute two bridges.
"You could have a bridge that was named for one individual in one direction and another individual in the other direction," Robinson said.
The city council's regular meeting is scheduled for Thursday at 5:30 p.m. at Pensacola City Hall.