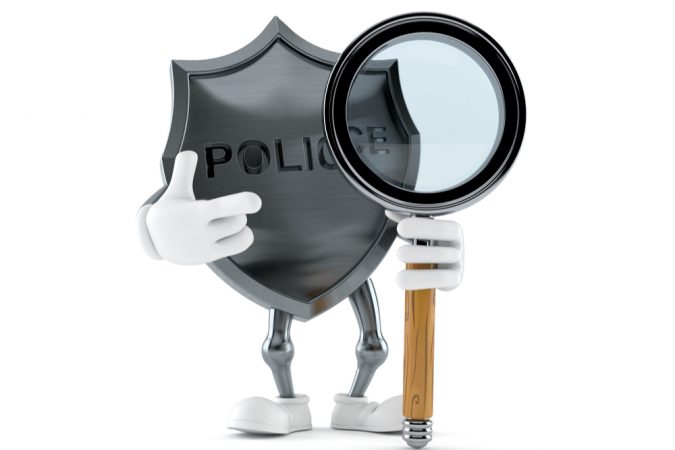 By Tom St. Myer
Retirement offers its share of perks, but Buddy Nesmith misses the thrill of solving a case. So, when Escambia County Sheriff Chip Simmons first broached him about forming a group of retired law enforcement investigators to assist the ECSO cold case unit, Nesmith enthusiastically volunteered his services.
"When he was campaigning (in 2020), he told me he would love to do it, and I told him at that time that when it's ready, I want to be the first one to sign up because it's my life," said Nesmith, who devoted 35 years to law enforcement, 20 of those on the Escambia County Sheriff's Office homicide unit, before retiring in 2016.
He explained, "For a homicide investigator, every case means something. We're a different breed. We live and breathe these cases. We take these cases home. I can't tell you how many times I've woke up in the middle night thinking of things to do. You just never lose it, no matter how old you get or how long you've been gone from it. When the opportunity came, I just felt like it was a chance to give back."
Nearly 20 retired certified law enforcement investigators, including Nesmith, have convened for the inaugural Cold Case Symposium on Wednesday, Feb. 23 and Thursday, Feb. 24 at ECSO. A case is considered cold by ECSO when all available leads have been exhausted without establishing probable cause to make an arrest. Simmons referred to the retired investigators as an "all-star team" and noted they combine for nearly 300 years of experience specific to homicide cases.
The volunteers' objectives include completing re-examining all evidence, integrating time-tested investigative techniques with modern forensic technology, and identifying items that could produce DNA results due to technological advancements.
"The evidence we have—the case file, the notes, the blood samples, the DNA samples, all this stuff—it's a finite number," Simmons said. "It's an amount that's not going to change. So, we're going to have to take another look at that and what we want is a unique perspective with experienced eyes, and we want to make sure we do right by the family."
The sheriff continued, "These families have been going sometimes 30 years not knowing what happened to their loved one, and they want to know someone cares. They want to know that someone remembers and that someone has mentioned their name, that someone is investigating it and that they're not forgotten. When I look them in the face after things like this, I feel comfortable that we're putting our best foot forward."
ECSO assigned the retired investigators the following six cold cases:
• Ernest Finklea was reported missing on October 6, 2019, nine days after his family last spoke to him. He was considered to be homeless at the time. On October 10 of that same year, his family told investigators they received a tip that his body was dumped in the area of North Miller Street. Investigators searched the area, but his body was never located.
• The body of 29-year-old Patricia Lynn Stephen was found on a dirt road off of Old Saufley Pines Road on March 1, 1985. Investigators believe she was murdered.
• On May 16, 2011, ECSO deputies found 31-year-old Broderick Johnson in his driveway dead from a gunshot wound to the head. No witnesses to the murder have come forward, but neighbors said they heard gunshots just before Johnson was found.
• Lakerian Demell Thomas-Peters was reported missing on June 1, 2016. He was last seen walking by the railroad tracks near Lincoln Park and Wedgewood three days earlier.
• Joanna Kay Otto was last seen on November 21, 1992, after leaving a party on Yacht Harbor Circle. A witness who drove her home said he dropped her off at her apartment on Royce Street. Family and friends have not seen or heard from her since that night.
• A leg and other body parts of 22-year-old Jessica Schuchman were found floating in the water near NAS Pensacola on October 19, 2001. Investigators determined Schuchman was a homicide victim.
Simmons said the plan is for the group to reconvene every three months to review cold cases. Ideally, the retired investigators will develop leads for the cold case unit to follow up and ultimately provide closure for the victims' families.
"It only takes one interview, right?" Simmons said. "You take one interview, and you get a little bit of information you haven't had before, and that leads to three or four different interviews, and then there's some different DNA and different stuff we can do. We're doing the technology. We're doing all the DNA."
He added, "Now, it's just intuition. It's experience. It's compassion. It's commitment to justice, and it's a sense of morality that you shouldn't be able to kill somebody and get away with it for five years, 10 years and 30 years, and that's why I'm so excited about it.
"We may not solve a single case, but we're going to move forward with some of these cases, and the families will know that the Escambia County Sheriff's Office has put its best foot forward. We've done everything we possibly can to show that your family member has not been forgotten."