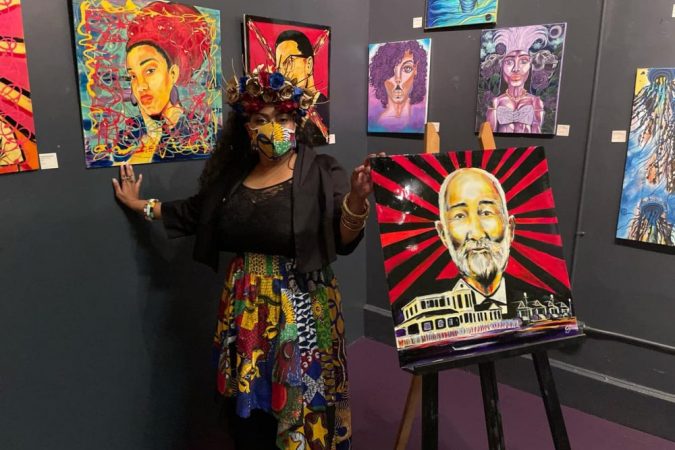 By C. Scott Satterwhite
Ending this week is a month-long celebration of Pensacola's multicultural artistic community held at Artel Gallery. The exhibit, "Celebrating Diversity," comes down this week with a benefit gala to honor the John Sunday Society.
"Diversity is beautiful," states Artel Gallery's website. "We have a diverse group of artists, a diverse selection of media, and a diverse array of exhibits all under one roof!"
The main gallery holds dozens of art pieces representing a broad array of works, diverse not only in the artists' ethnicity but in the style of the art. Paintings, sketches, photos, sculptures, mixed-media works and even musical instruments adorn the large gallery space.
Art sales benefit the John Sunday Society, the organization which hosted the one-night gala. The organization's namesake, John Sunday, was a Reconstruction Era African American politician and Union Army veteran of the Civil War. Though Sunday died in 1925, his home survived for almost a century after his death.
After a contentious battle to save his home in 2016, developers destroyed his home, leading to the formation and growth of the non-profit organization named after Sunday. The John Sunday Society focuses on historic preservation, with particular attention to Pensacola's multicultural heritage.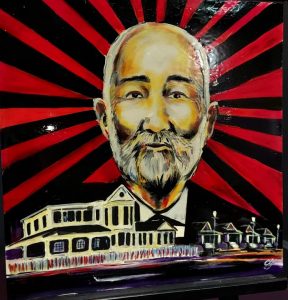 The president of the John Sunday Society, Teniade Broughton, was recently elected to the Pensacola City Council. The theme for the gala was celebrating Pensacola's diverse cultural communities, as well as the celebration of John Sunday. In attendance were Mayor Grover Robinson, County Commissioner Lumon May, City Councilwoman Ann Hill, and Councilwoman Broughton.
Broughton and the John Sunday Society led the fight to save the historic home. Despite the loss of his home, the John Sunday Society helped the city recognize officially recognize Sunday's accomplishments by creating an official "John Sunday Day" on March 20th, first celebrated in 2019. This month, the City of Pensacola officially designated a park on City Hall's grounds as John Sunday Plaza. The gala at Artel Gallery is the culmination of the John Sunday Society's events celebrating its namesake and his contribution to Pensacola.
"This is only the beginning," said Broughton, referring to the evening's events but also broader work celebrating Pensacola's Black history.
Shernita Wiggins Wynder, almost literally glowing with gold jewelry and make-up, attended the John Sunday Society's event.
"I just attended one of the most exciting and wonderful events," said Wynder. Talking about the importance of the event and Africans' history, Wynder said, "We were kings and queens when we came to this country. We were not slaves when we came to this country. Our children need to know this."
To reflect this history, Wynder wore gold to represent an image she wanted to portray for the night's event, celebrating African royalty.
"We are in the age of diversity. We are in an age of dealing with racial injustice. Dealing with the empowerment of our people," said Wynder. "Black History Month is not just for one month. We are black 365," said Wynder.
Part of the larger Artel Gallery event was the "Black Art Matters" exhibit on display in Artel's vault section. Inside were paintings by Pensacola's Carter J. Gaston, Kenneth Burrell, Ashley Gibson, Alys Richardson, and Bobby Booker. The various works included several paintings of African American figures, including a central piece on display by Gaston of John Sunday himself. Another showcased photography from Pensacola's 2020 Black Lives Matter protests at the Graffiti Bridge.
Late entry to the vault exhibit was Pensacola's Pandhandle Slim, otherwise known as Scott Stanton. Stanton sent several paintings from his adopted hometown of Savannah, Georgia. The paintings included works inspired by James Baldwin, Toni Morrison, Muhammad Ali, and many others.
Broughton hopes this event will help her to bring more diverse art to Pensacola's cultural community. "We're a multicultural community. We always have been," said Broughton. The Artel Gallery "Celebrate Diversity" exhibit showcases many of these cultures' art, as well as the rich multicultural history so often ignored in the retelling of the Pensacola story.
Artel's "Celebrate Diversity" exhibit ends on Thursday, Feb. 25. For more information, visit artelgallery.org.