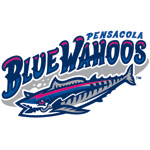 Turnkey Intelligence has ranked the Pensacola Blue Wahoos the first out of 42 minor league baseball teams in customer satisfaction.
The company surveyed full, partial and single-game ticket holders of 17 Double-A and 25 Triple-A baseball teams. The survey solicited feedback on an array of topics related to game attendance and interaction with the fan's respective organization. For the Blue Wahoos, 3,000 season ticket holders and 30,000 single-game ticket holders received the survey.
Turnkey Intelligence computed the Net Promoter Score (NPS), a tool used to gauge customer satisfaction across a multitude of industries. The average NPS was 34. By comparison, Disney Theme Parks and the Ritz Carlton have an NPS of 62. The Blue Wahoos' NPS was 83. The Average Fan Satisfaction for participating clubs was 8.3. The Wahoos rated 9.4. The Average Net Promoter Gameday Experience for the 42 teams surveyed was 58, Wahoos 83 (out of 100).
"Staff and fan satisfaction have been the Wahoos' top priorities from day one," said Quint Studer, co-owner of the Blue Wahoos. "The fact that the Wahoos' Net Promoter Score is more than twice the average of other teams surveyed is a credit to the talented employees who deliver the best fan experience in minor league baseball each day."
Studer said that he was proud the team rated above stellar organizations like Disney and the Ritz Carlton is outstanding.
"While we have always measured fan satisfaction internally, to now have an independent company confirm there is no better place to enjoy a great fan experience than a Wahoos game affirms we are on the right track," he said. "We commend all teams that signed up to be surveyed – it shows they also have the right focus."