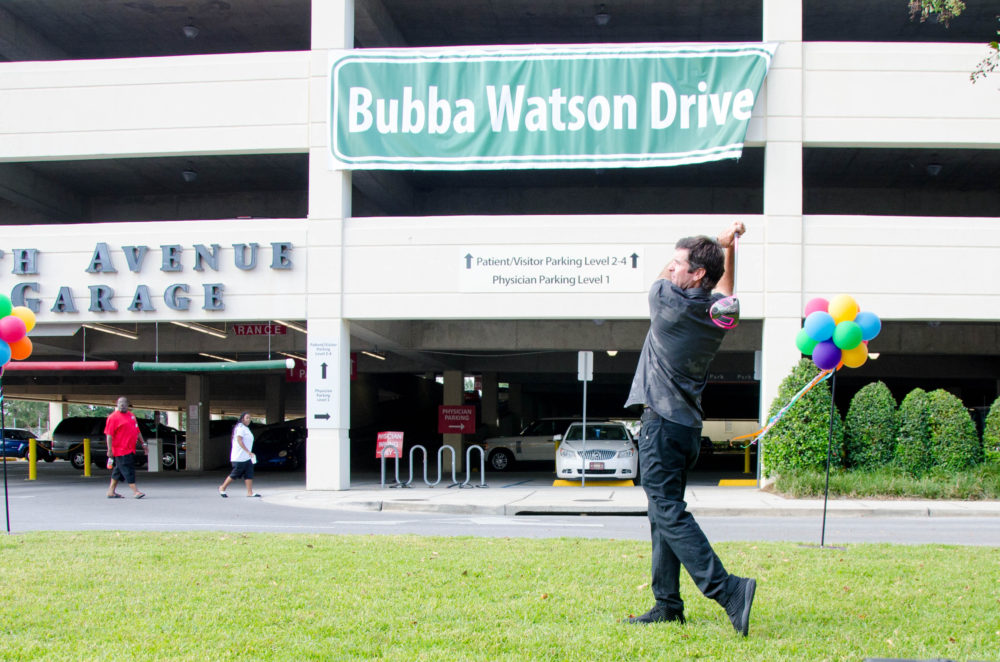 The Gulf Coast community rallied behind professional golfer Bubba Watson to help him win the first round of the MetLife MatchUp, securing a $20,000 donation to The Studer Family Children's Hospital at Sacred Heart.
In its second year, the MetLife MatchUp is an online contest that asks fans to vote for the best recovery shot of the week throughout the PGA Tour season. Watson's recent donation will support the construction of the new four-story Children's Hospital, which will increase access to specialized pediatric and maternity care and consolidate inpatient pediatric services in one convenient location. Sacred Heart is a member of Ascension, the largest non-profit health system in the U.S. and the world's largest Catholic health system.
The next round of the online voting begins August 5. At that time, fans are encouraged to visit the PGA Tour MetLife MatchUp website to continue voting for Watson and help him secure the $750,000 grand prize for his selected charities.  Should Watson become the 2018 MetLife MatchUp Champion, he has committed to donating $500,000 of the prize to The Studer Family Children's Hospital at Sacred Heart.  Fans can vote up to 20 times each day. To receive notifications about Watson and speed the voting process that starts August 5, fans can create a login on the PGA Tour website today using an e-mail address or social media account.
A resident of Pensacola who was born at Sacred Heart Hospital Pensacola, Watson has put his star-power to good use by supporting causes that are close to his heart. When Watson won the 2017 MetLife MatchUp, he donated half of his million-dollar prize – as well as an additional $1.6 million – to support the construction of Sacred Heart's new four-story children's hospital.
To recognize the ongoing support of the Watson family, Sacred Heart named the entrance road to the new Children's Hospital as Bubba Watson Drive. The City of Pensacola made the name change official in December.
"Bubba's steadfast commitment to the health and well-being of our community is evident in how he continues to give back," said Henry Stovall, president and chief executive officer of Sacred Heart Hospital Pensacola and The Studer Family Children's Hospital at Sacred Heart. "We are grateful for his continued generosity and support. His legacy of giving will have an enduring impact on children and families for generations to come."