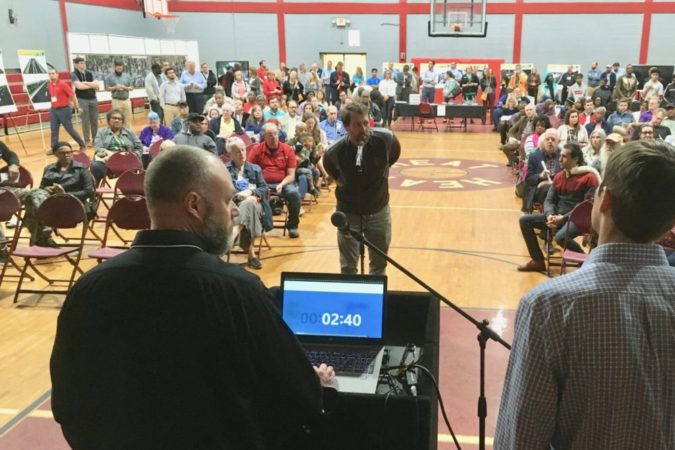 Following a season of negative feedback concerning safety improvements for West Cervantes Street in Pensacola, the Florida Department of Transportation presented revised plans Tuesday night that incorporated community concerns. Specifically, the new plan involves significantly less of a wall-like barrier running down the middle of the street.
"We've added a substantial amount of landscaping," said FDOT spokesman Ian Satter, pointing to a map stretching the length of the Fricker Community Center gymnasium which detailed the revised safety improvements.
The safety improvements planned for the 2.3 mile stretch of West Cervantes, from Dominque Street to A Street, are intended to reduce vehicle and pedestrian conflict points along the route. Elements of the plan call for reducing lane width, adding crosswalks and traffic signals, as well as a median in the center of the road.
When FDOT initially presented the plans over the summer, there was a collective balk — from government officials, as well as nearby residents and business owners — at the median aspect, which largely took the form of a concrete barrier designed to prohibit undesignated pedestrian crossings, but which also had the effect of dividing the street grid. In the state's revised plans presented this week, that wall has been reduced from 6,000 feet down to 2,000 feet; the remaining portions were left in the areas that have proven most perilous for pedestrians.
Satter said that FDOT's revisions regarding the wall — as well as the addition of traffic signals — were in response to discussions had with local elected officials, primarily with the city of Pensacola. Mayor Grover Robinson said Tuesday that he was glad to see some elements of the revised plans — less wall, more signals — but still had issues with the proposed improvements.
"It's not perfect," Robinson said.
One of Robinson's concerns is the division of the existing street grid created by stretches of uncrossable median, wall and landscaping. These concerns were also voiced by numerous people during the public comment portion of Tuesday's packed-house meeting, with critique coming from a variety of sources: business owners concerned about customer access, neighborhood associations concerned about the impact on community and cycling advocates concerned about the flow of the street grid.
"We want what everyone else who spoke tonight — from Attucks Court to Josh Fields to the CiviCon community — wants: maintain the street the grid," said Mike Kilmer, president of Brownsville's neighborhood association, stressing the importance of aspects such as initiating a road diet for Cervantes, as well as continued discussions with local officials with an eye towards less dramatic safety improvements that emphasize walkability by slowing vehicular traffic.
Satter said the plans presented this week are about 90 percent finalized. After the agency incorporates public comment gathered during Tuesday's public hearing — as well as comments submitted to FDOT by Dec. 20 — the agency will finalize the safety improvement and intend to begin work by January 2021, with a target completion date of the spring of 2022.