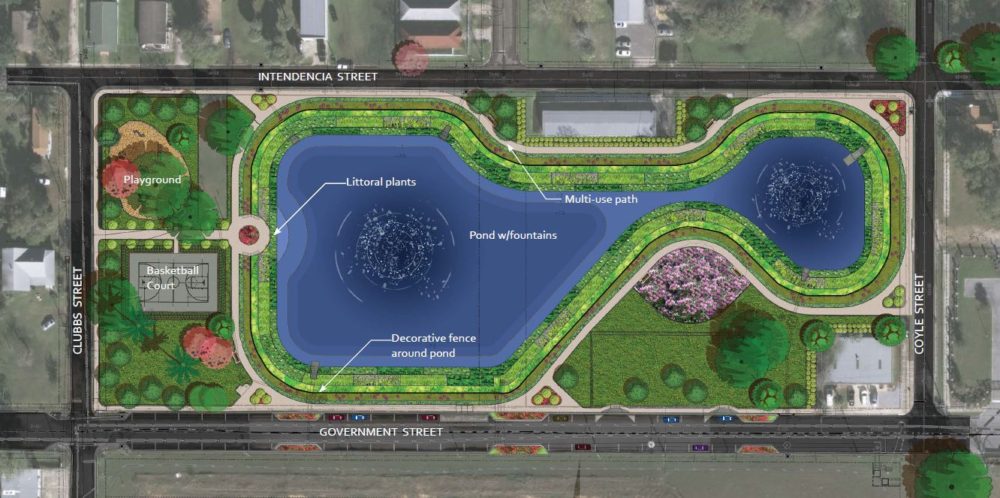 The City of Pensacola made additional updates to its page concerning the Government Street Stormwater Project.
For the first time, residents can see on the city's website drawings of the park and ponds. Mayor Ashton Hayward never held a town hall meeting for the Tanyard residents and businesses to have input into the project. (See update below)
The west pond is very close to the residences on Donelson Street. They should have had a chance to voice any concerns before the design was finalized and the project bid.
City also added the December 2015 Council action that approved the contract the budget – which we have previously published is:
Construction Contract – Base Bid: $ 2,324,528.78
Construction Contract – Bid Alternates 3-7 and 9: $463,658.80
10% Contingency  $278,818.76
Engineering Design/Permitting -Consultant $199,000.00
Project Management and Inspection $82,000.00
Construction Testing and Misc. $24,500.00
Total: $ 3,372,506.34
"The only significant cost addition to date has been the groundwater treatment system that was added to the project but was mostly funded by Escambia County." – per city website.
This last statement contradicts what City Engineer Derek Owens told Commissioner Lumon May when he toured the project on Dec. 14. Owens told May that the project was over budget.
City Administrator Eric Olson also told Councilwoman Sherri Myers that the project was running over budget and that they may have to take stormwater funds from other projects.
What's the truth?
———————-
Just got off the phone with Commissioner May. He confirmed that Owens told him the reason the pumps, excavators and dump trucks were running through the night and on weekends was because the project was running behind schedule and over budget.
———————–
Update 12/22/16: A reader pointed out an article from July 11, 2014 that previewed a public meeting on the design that was to be held on Tuesday, July 15, 2014. Read PNJ.
We couldn't find any reports on the hearing, but we do know that Tanyard residents protested the pond on Friday, July 18: "A dozen protesters turned out Friday afternoon in front of Pensacola City Hall objecting to plans for a new stormwater retention pond they say is too close to a downtown park where children play." Read PNJ.