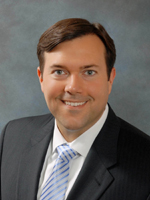 Today, the Greater Pensacola Chamber Board of Directors announced that Clay Ingram has been elected to serve as the Chamber's new president & CEO. Ingram, who was unanimously voted by the Board to oversee all operational aspects of the Chamber, will begin his new role on Jan. 5, 2015.
"Clay brings energy, leadership, a unique perspective and highly developed skillsets important to this role and our organization. We are thrilled to have him serve as the Chamber's next president and CEO," said Carol Carlan, Chair of the Greater Pensacola Chamber Board of Directors. "His understanding of small business development, finance and the importance of regional partnerships will be a tremendous asset that will allow us to continue serving the Northwest Florida business community."
Ingram currently serves as a member of the Florida House of Representatives, representing the 1st District – which includes most of Escambia County – and previously, the State's 2nd District from 2010 to 2012. He was recently named chair of the Transportation and Economic Development Appropriations Subcommittee, where he is responsible for crafting a $12 billion budget for several agencies, including the Department of Transportation, Department of State, Department of Economic Opportunity, Department of Highway Safety and Motor Vehicles, and Department of Military Affairs. Ingram also serves on the Florida Defense Support Task Force and the Joint Legislative Budget Commission.
"Over the course of this year, the Chamber has repositioned itself to create a better business climate in the Greater Pensacola Region," said Ingram. "I am excited to lead a team that is dedicated to maintaining economic prosperity and a better quality of life for those that choose to live and do business in this community."
Prior to being elected to the Legislature, Ingram worked in sales, real estate and served as a teacher in the Escambia County School District, where he taught courses in the Exceptional Student Education Department at J.M. Tate High School.
"It has been an honor and privilege to lead the Chamber, and I couldn't be more proud of what this organization has accomplished over the past year and a half," said former Pensacola Mayor and current Chamber President & CEO Jerry Maygarden. "In addition to serving as the executive director for the Pensacola Chamber Foundation, I will continue to serve as an advisor to both Clay and the Board for as long as I am needed."
A Pensacola native, Ingram is a graduate of J.M. Tate High School and Florida State University, where he earned a bachelor's degree in general communication, with a minor in political science. An active member of the community, he is a member of St. Luke United Methodist Church, the Cantonment Rotary Club, Century Chamber of Commerce and serves as a board member for Big Brothers Big Sisters of Northwest Florida and the Florida State University Alumni Association. Clay and his wife, Leslie, have two daughters, Madilyn and Lydia.