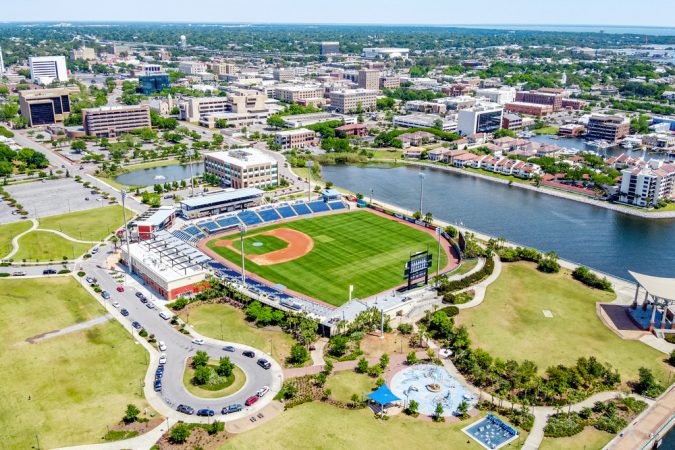 At its Thursday, July 15 meeting, the Pensacola City Council will consider three proposals submitted for parcels 4 and 5 at the Community Maritime Park:
Caldwell Associates
Team: Caldwell Associates and Dominion Partners
Components – submitted its response to Studer Properties' ECUA site, across the street from Maritime Park.
Carson Lovell
Team: Carson Lovell Company, Provident Resources Group, Structured Parking Solutions, International Coliseum Company, The Michaels Organization, and Legendary Marine.
Components:
• A municipal parking garage – which serves as parking for new developments and public parking.
• A conference/convention facility – the conference/convention facility will provide the City and Citizens with flexible-use meeting, conference, banquet, and general-assembly space and become a catalyst for new opportunities for surrounding properties and the overall downtown district.
• A multifamily affordable workforce housing complex – we are prepared to finalize evaluations and include a multifamily living complex to meet affordable and workforce housing needs, which are sorely needed downtown.
• A retail – entertainment establishment – we have included a unique entertainment opportunity to serve the overall downtown, continue to grow the waterfront district, and extend our efforts to become a catalyst for new growth. This creative and intuitive retail and entertainment venue compliments the existing waterfront district and proposed new developments, while creating a new attraction for local citizens.
• Marina development – we are including an option to complete the proposed breakwater and boat wet slips which are an instrumental part of the overall activation of the Waterfront District.
Inspired Communities
Team: Inspired Communities of Florida, LLC (the Florida d/b/a of The Dawson Company) and EJ Smith Enterprises, LLC
Components:
Retail space – possibly a grocer, such as Publix, a pharmacy and other retail spaces built around a parking garage.
Residential – "best-in-class, Class A residential space" above residential (120 units) and two towers (234 and 180 units) on the southern end of the garage.
Office space – "Class A office center"
534 Residential units
Commercial/Retail: 47,000 SK – 27K grocer, 11K drug store, 9K inline retail
Institutional/Commercial: 33,000 SF
Office: 33,000 SF
Parking: Seven-level deck, 1,483 spaces