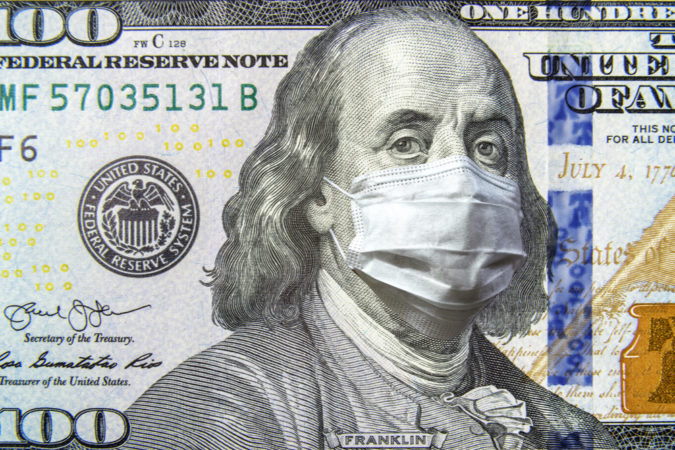 Last week, the Institute for Health Metrics and Evaluation at the University of Washington School of Medicine released a model that projected the COVID-19 pandemic would peak in Florida on May 3. Now that the state has a Safer-at-Home order, the peak has been moved to Tuesday, April 21.
Louisiana peaked on April 1, according to the model, but deaths will continue to rise. Alabama and Mississippi are projected to peak April 18.
---
BY THE NUMBERS: CORONAVIRUS — TUESDAY LUNCH EDITION
TALLAHASSEE — The Florida Department of Health released updated numbers Tuesday morning about the coronavirus in the state. Here are some takeaways:
— 14,504: Total number of confirmed cases.
— 1,180: Increase in cases from a Monday morning count.
— 283: Deaths of Florida residents.
— 47: Increase in deaths from a Monday morning count.
— 1,778: Hospitalizations of Florida residents.
— 185: Increase in hospitalizations from a Monday morning count.
— 358: Cases involving residents or staff members of long-term care facilities.
— 75: Increase in cases involving long-term care facilities from a Monday morning count.
— 58: Cases involving residents or staff members of long-term care facilities in Miami-Dade County, the most in the state.
— 65: Counties with confirmed cases.
— 4,997: Cases in Miami-Dade County.
— 8,346: Cases in Miami-Dade, Broward and Palm Beach counties.
Source: Florida Department of Health
---
United Way Offers Financial Coaching
The EscaRosa Financial Stability Coalition, facilitated by United Way of West Florida, is now offering virtual financial coaching services to help individuals and families take steps towards financial stability.
Financial coaching is administered by trained volunteers and focuses on the following areas:
Credit Score Improvement: Your credit score can impact your ability to borrow money, obtain certain types of employment, or secure affordable housing. Financial coaches will pull your credit report, explain your score, and help you develop a plan for improvement.
Debt Reduction: Reducing debt can give you the ability to save more money, alleviate financial stress, and achieve your financial goals. Financial coaches will work with you to create a budget and develop strategies for repaying debt and dealing with debt collectors.
Increased Saving and Asset Building:  Weathering financial shocks and setbacks while saving for the future is a critical step toward financial security. Financial coaches can help you develop a plan to achieve your saving goals.
Banking Access: Accessing a safe, affordable account is key to joining the financial mainstream and keeping earnings secure through saving. Financial coaches will work with you to identify a bank or credit union that meets your needs.
All financial coaching services, including credit report analysis, are provided free of charge to any low- to median-income adult living in Escambia and Santa Rosa counties. To schedule your virtual financial coaching appointment, email United Way of West Florida Financial Stability Program Outreach Manager, Katrina Madden, at katrina.madden@uwwf.org.
---
Facebook Live Event: SBA Small Business Disaster Loans Explained
Florida SBDC Network CEO Mike Myhre will provide an overview of the U.S. SBA's disaster loan programs available in Florida to help small businesses suffering substantial economic injury as a result of COVID-19 at a Facebook Live event Thursday, April 9 starting at 1 p.m. CST
During the event, he will address frequently asked questions, eligibility requirements, and provide an opportunity for businesses and the public to ask questions in real-time.
RSVP to our Facebook Event page here to be notified when the event is starting on our Facebook page. There will be a link to the event posted when we go live OR visit our Facebook page here on 1 p.m. CST, Thursday, April 9, to tune in to the live event that will be linked and viewable on our timeline.
---
Additional Ways to Apply for Reemployment Assistance
As many Floridians do not have access to a computer at this time, Governor DeSantis has instructed DEO to make paper Reemployment Assistance applications available for Floridians.
Beginning this week, CareerSource locations across the state will be providing paper applications and assisting Floridians with submitting their Reemployment Assistance applications. Visit www.CareerSourceFlorida.com for information and center locations.
FedEx is offering free printing and mailing of Reemployment Assistance paper applications at over 100 storefronts across the state.
Applications can be downloaded at www.FloridaJobs.org/COVID-19. Once the application is complete, individuals should mail them to:
                    Florida Department of Economic Opportunity
                    P.O. Box 5350
                    Tallahassee, FL 32314-5350
Additionally, to make it easier for Floridians to receive Reemployment Assistance, Governor DeSantis waived:
The waiting week, so individuals can claim their very first week of Reemployment Assistance.
The work search and work registration requirements so individuals filing for Reemployment Assistance are not required to register in Employ Florida or submit information on a biweekly basis regarding the employers that they contacted each week while the state mitigates the spread of COVID-19.
---
Drive-thru testing closed on Good Friday
Ascension Medical Group Sacred Heart will continue to provide a drive-through center from 9 a.m. to 1 p.m. on April 7-9 to collect samples for Novel Coronavirus testing. The testing center will be closed on Good Friday.
Persons wanting to have a nasal swab collected for lab testing should first call 850-746-2684 for a telephone screening to see if they meet criteria to get the test. Persons who meet criteria will be directed to the drive-through site where nurses in protective equipment will perform a nasal swab. The call center will be open from 8 a.m. to 10 p.m. Tuesday, Wednesday and Thursday.
Since Ascension Medical Group began its COVID-19 testing site on March 16, the call center has done more than 10,000 phone screenings. The drive-through site has performed swab tests on more than 3,000 people, with 84 percent of those coming from Escambia and Santa Rosa County. Tests conducted by outside labs show 118 persons from the two county area were infected with the virus.
---
Message from Council on Aging
Dear Friend of Council on Aging,
"How are you feeling?" a good friend asked me this week. My response? "Anxious. Isolated from my family and friends. Disoriented because my normal routines are gone. Worried."
I also have a special concern as I'm currently chair of Council on Aging's Board of Directors. Our mission each day is "to serve, support and advocate for aging adults in Escambia and Santa Rosa counties." With COVID-19 rapidly spreading throughout the world, that's becoming more and more challenging as elderly folks are at greater risk.
So far, our staff has been able to continue providing our normal services, albeit with adjustments. Case workers make their contacts with clients by phone instead of in person, and our wonderful volunteers continue to deliver Meals on Wheels. We have 20 dining sites scattered throughout Escambia and Santa Rosa counties. They've allowed seniors to eat a hot meal together, socialize, have fun. But now? Individuals must get to the site to pick up a meal which is handed to them, then go home to eat. For many, that's a recipe for loneliness which may lead to depression and a decline in emotional and physical well-being.
Add to the shrinking world of seniors the fact that parents have been asked to keep grandchildren away from grandparents. Ouch! I miss my own granddaughters whom I haven't seen since this all started. I miss them dearly. Technology is no substitute for a real hug.
And, yes, I miss that, too – the hugs, handshakes, and human touches that mean so much. I'm fortunate as I have my husband with me. Most of our clients, however, live by themselves.
As you can imagine, requests for our services are increasing even as the difficulty of providing them grows harder every day, even as the governor declared our services as "essential." We had to temporarily close The Retreat, for example, our day care center, losing private pay and VA payments. You wonder why I'm worried?
We will get through this crisis best by sticking together, supporting each other and the common good in any way we can. So, dear friends, I am making a plea to you for help. More than anything, we need unrestricted money, whatever amount you can give, whether online or by mail at PO Box 17066, Pensacola FL, 32522. We care for our seniors, want to do the best we can to help them, and can do so with your assistance, even as you are stuck at home.
Thank you from me and all who work at COA,
Kathleen Vestal Logan
Chair, Board of Directors
Council on Aging of West Florida