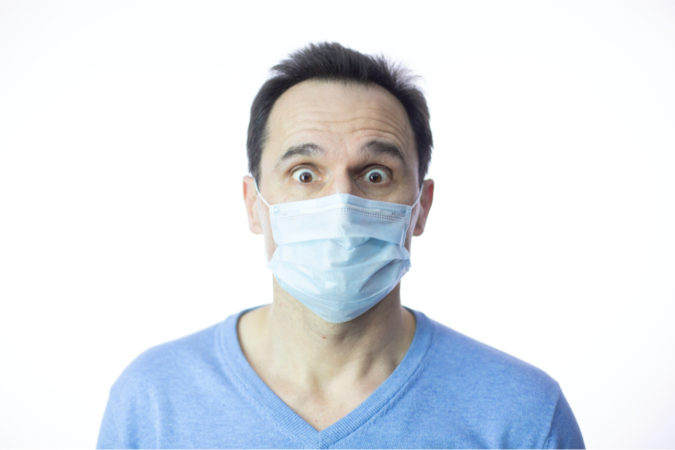 Tuesday morning Escambia County officials met with hospital executives and other medical professionals as part of the activation of the Emergency Operations Center. The meeting was behind closed doors without media or public access. No notes on the meeting were included in the county's COVID-19 updates.
At the county Tuesday afternoon press conference, Inweekly asked what was discussed.
Escambia County Emergency Management manager Eric Gilmore said the county wanted to meet with our ESF-8 partners, our hospital, ALS (Assisted Living) nursing homes to make sure they were following the state guideline of no visitors for 30 days because of the vulnerability of the older population to the virus.
"And to see any needs that they have in the community," he said."We're making sure they have enough PPE (personal protection equipment) to do their job. Once again, protect our clientele, protect their occupants of the facility.So we had good interaction with them."
Gilmore continued, "Everybody seemed to be following the proper procedures, protocols–hand washing, hygiene, social distancing within the community centers and interaction with outside people coming in. So the other side of it was just to let them know that we're here if they need anything. The EOC is activated; we are level 2. They can call in if they need resources, information request. We can provide that."
Inweekly asked about whether local hospitals had the proper equipment to conduct the COVID-19 tests in-house. Dr. John Lanza, director of the Florida Department of Health in Escambia County, dodged the question.
"The Department of Health has obtained 625,000 separate tests available that we are distributing out to healthcare entities, including the hospitals," said Lanza. "I can't speak to the specific equipment that hospitals would or would not need, but the testing materials to actually do the test at the hospital instead of having to do it at LabCore, Quest or the Bureau of labs or the Department Of Health, that testing reagent, material, the chemicals is available."
Inweekly asked Lanza about how quickly hospitals and clinics were getting back the test results.
"Of course the more communities that are sending specimens in to be tested at the state lab and at Quest and Lab Corp, just the mass is slowing down the testing," he replied. "So I don't have an accurate number right now. We've heard between two and four days depending on where it is set."
Lanza added, "But the idea is that the 625,000 possible tests, the chemicals for that will be at the local level. So that turnaround will depend on the flow at that particular facility, at the hospital for example. So right now we're waiting to see when the hospitals can start local testing, and then we'll have a better idea how long it takes from when the sample is taken, the specimen is taken to when the results are available."
Mayor Grover Robinson interjected that he and Commissioner Lumon May had spoken with all three hospitals and the Escambia Community Clinics.
"And one of the things that came out of that (discussion) is they asked for us to to advocate on their behalf, both through our EOC to the state EOC, for more N95 masks," said the mayor. "For the first day of testing, it becomes a supply that we could burn through and that's why they want to continue to see what's happening."
---
On Tuesday, Florida Division of Emergency Management (FDEM) announced that at the Governor's direction, FDEM Director Jared Moskowitz has ordered additional supplies and personal protective equipment in an effort to mitigate and contain the spread of COVID-19 in the state.
After conducting a thorough assessment of needs, Director Moskowitz has requested the following supplies through Direct Federal Assistance:
5 mobile intensive care units
5,000 ventilators
5,000 hospital beds
50,000 two oz. bottles of hand sanitizer
250,000 coveralls
500,000 gloves
500,000 gowns
500,000 collection kits
100,000 16 oz. bottles of hand sanitizers
150,000 Personal Protective Equipment kits, including coveralls, gowns, and goggles
2 million N95 face masks
Supplies are being delivered on a rolling basis, and inventory is being distributed throughout the state 24 hours a day.
Three field hospitals are being deployed:
One field hospital is currently staged in Orlando and can be deployed to other areas in the state as needed.
One field hospital is on its way to Broward County and will be set up there.
One field hospital is on its way to Ocala and will be staged there and deployed to other areas as needed.
Director Moskowitz is also working with the federal government to determine if there is capacity to add US Navy Mercy-Class ships at Florida ports. Mobile COVID-19 testing is also being implemented, and the National Guard is deployed in Broward County and on standby to assist throughout the state as necessary.
---
Today, Commissioner Lumon May has scheduled a 10:30 a.m. press conference at the Brownsville Community Center located at 3200 W. DeSoto St. Speakers will talk about COVID-19 testing sites and health information.
Speakers will include:
Escambia County District 3 Commissioner Lumon May
City of Pensacola Mayor Grover Robinson
Florida Department of Health in Escambia County Director Dr. John Lanza
Community Health Northwest Florida CEO Chandra Smiley
Baptist Health President and CEO Mark Faulkner
Ascension Health Chief Operating Officer Justin Labrato
West Florida Hospital CEO Gaye Nord
Escambia County Sheriff David Morgan
Escambia County Chief Deputy Chip Simmons
Inweekly will be there.
---
DOH reports the state now has 216 positive test results – which doesn't include the case at Navy Federal Credit Union that popped up yesterday. A total of 2,294 people have been tests as of last night:
Negative: 1,017
Positive : 216
Results Pending: 1,061
---
At the county presser, Dr. Lanza did offer few details about the county's first confirmed COVID-19 case:
"We have had our first resident case of COVID-19 in a gentleman who had traveled outside of our country," he said. "He came back and was tested and was found to be positive."
Lanza said that contact tracing is something his department does daily.
"We do that every day for tuberculosis, Hepatitis A, and other diseases that are out there, and we're doing the same thing for COVID-19," he said. "We have contacted this individual, figured out who they may have come in contact with, and we're in the process of letting them know that they may have come in contact with an individual with this particular disease, and then giving them appropriate instructions as to self-quarantine or self-isolate or depending on what the situation is."
Lanza refused to say to which countries the patient traveled or what was the current health condition of the patient.
He said, "That would be privileged information, and there are privacy laws at both the state and federal level that would preclude me from answering that question."