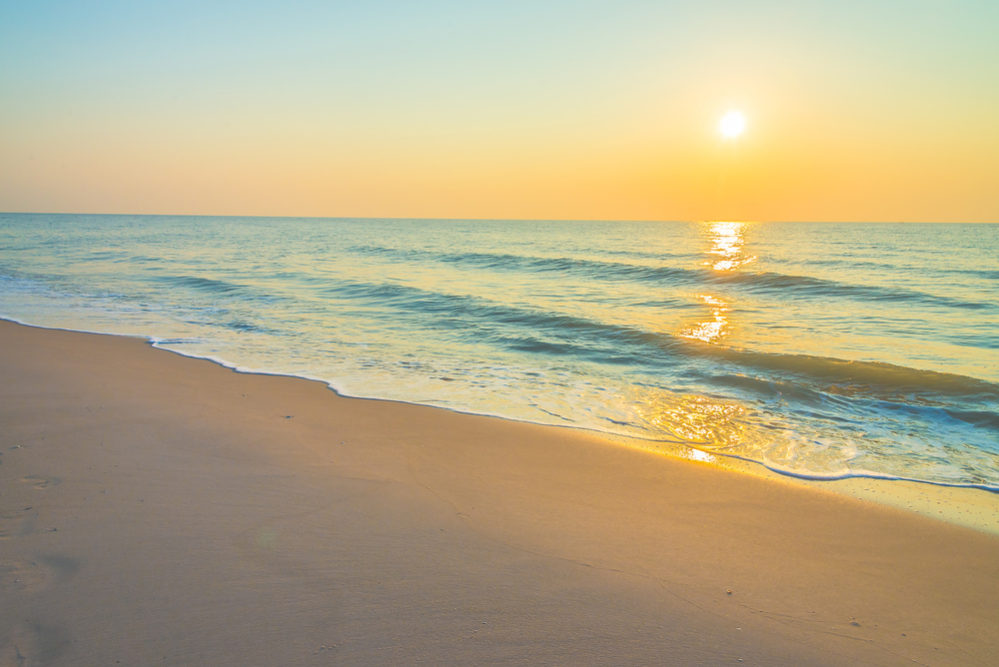 The Escambia Board of County Commissioners voted, 5-0, this morning to re-open the public beaches 30 minutes before sunrise on Friday, May 1 — with no limitations on daylight hours (30 minutes before sunrise and after sunset) and activities but maintaining social distancing — six-feet separation and no more than 10 people in a group. Pavilions and public restrooms will stay closed until May 7 when the board meets again. Areas around the pier will be closed. Beach parking will be opened.
Dr. John Lanza, director of DOH Escambia, said he felt that Gov. DeSantis would have no objection to the opening the beaches in Escambia County. He said that county is on a downward turn with the coronavirus "starting possibly two weeks ago."  Commissioner Doug Underhill asked for Lanza to come up with the beginning date for the county's downward trajectory.  The doctor said he would send the request to Tallahassee for analysis.
The order matches Alabama Governor Kay Ivey's latest order reopening Alabama's beaches at 5 p.m. Thursday, April 30 to gatherings of 10 people or less and people need to maintain 6-foot distances from people of different households.
---
The latest LTC report from FDOH showed an increase of  seven COVID-19 cases since yesterday.  Southern Oaks has seven more cases among residents.  Brookdale dropped one case, and Rehabilitation at Park Place was added to the list with one positive resident transfer.
At the BOC meeting today, Dr. Lanza said we had about 1,000 tests outstanding.  The tests conducted in hospital labs have a turnaround of 24 to 48 hours.  Those sent to  private labs – like those done at nursing homes – are taking two to three days longer.  Lanza said the National Guard started testing in local nursing homes yesterday.
| | | | | |
| --- | --- | --- | --- | --- |
| | Residents | Transfer Out | Staff | |
| Arcadia Health & Rehabilitation | 0 | 0 | 3 | |
| Asbury Place | 0 | 0 | 1 | |
| Bayside Health | 1 | 0 | 2 | |
| Brookdale Pensacola | 2 | 0 | 6 | |
| De Luna Health And Rehabilitation | 0 | 0 | 1 | |
| Florida Mentor | 0 | 0 | 1 | |
| Homestead Village Retirement | 0 | 0 | 2 | |
| Olive Branch Health And Rehabilitation | 0 | 1 | 0 | |
| Rehabilitation at Park Place | 0 | 1 | 0 | |
| Rosewood Healthcare And Rehabilitation | 6 | 2 | 1 | |
| Southern Oaks Care Center | 94 | 5 | 15 | |
| Specialty Health And Rehabilitation | 0 | 1 | 0 | |
| Total | 103 | 10 | 32 | 145 |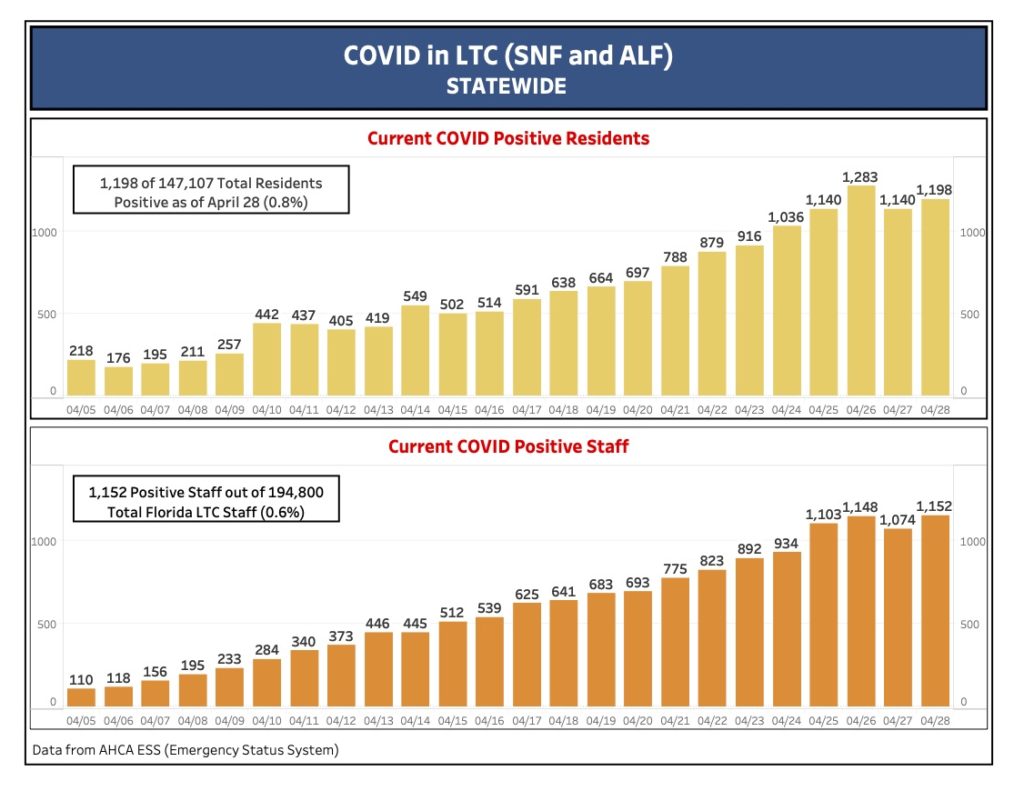 ---
Report Differences
Inweekly asked DOH Escambia to explain the difference in FDOH state reports that showed 145 cases in our nursing homes and the detailed report on cases in individual long-term facilities that totaled 138 cases.
The response:  "The list of long-term care facilities in Florida associated with COVID-19 cases now includes active cases in each facility in order to provide real-time data. It is important to note, case data contained within the other publicly available information is separate from the data contained in the daily report. The information in the daily report is derived directly from Merlin (State Surveillance System), whereas the information in the long-term care facility list is derived from the Agency for Health Care Administration's Emergency Status System."
The detailed report " reflects the current available information reported by each facility's staff to the Department via the Agency for Health Care Administration's Emergency Status System. The data is not cumulative but reflects the information available for current residents and staff with cases as of the reported date. Data in the Long-Term Care Facility List report is provisional and subject to change."
---
Beulah Food Trucks
Escambia County continues to allow food trucks to park in the Equestrian Center parking lot, located at 7750 Mobile Highway, for residents to purchase take-away food 10 a.m.-7 p.m. The parking lot is a large grassy area and provides ample room for residents to adhere to all Centers for Disease Control and Prevention social distancing protocols. Trucks will be spaced out in the lot and patrons are asked to keep 6 feet of distance between individuals and to limit gathering to groups smaller than 10.
To participate as a food truck vendor, call 941-6042 for a vendor application. All Equestrian Center vendor fees will be waived.
---
Food Pantry Needs
The SitRep for Monday, April 27 stated that Manna Food Pantry submitted an application for two truckloads for Emergency Meal Kit boxes to the EOC. The PIO is "still looking into trucks and drivers to transport food from Feeding the Gulf Coast to distribution sites."
---
Medical Supplies
The Greater Pensacola Chamber of Commerce is partnering with BRACE (Be Ready Alliance Coordinating for Emergencies) and Hillcrest Baptist Church to extend the continuous site for medical supply donations to May 4th. Donations can be made from 9am-5pm Monday-Friday at both Hillcrest Baptist Church Campuses, 800 E. Nine Mile Road and 3960 Spanish Trail Road.
Items being accepted: Respirator Masks N95 1860/1860s; Standard Face / Surgical Masks (Loop or Tie-on); Flexible Mini-Tip Flocked Swab-Nasopharyngeal; Full Length Face Shields; Isolation Gowns; Nitrile Medical Examination Gloves.
In addition to the medical supply drop-off locations, the Chamber has partnered with Brownsville Church and Marcus Pointe Baptist Church to offer a drop off site for baby donations for moms in need. This is based off of community needs assessed by our faith network. Donations requested include diapers, wipes, and formula (only).
Drop off location is at Marcus Pointe Baptist Church, 6205 N. W Street, from April 27–May 4. Donations can be made from 9 a.m.-5 p.m. Monday-Friday.
---
Unemployment System
Florida's unemployment website will be unavailable for all but new claims each night as the system undergoes maintenance and the state works on a backlog of claims because of the coronavirus, the Department of Economic Opportunity said Tuesday.
"DEO will be conducting nightly maintenance to the CONNECT (online unemployment) system to process claims and payments faster," a news release from the department said. "CONNECT will be available from 8 a.m. to 7:59 p.m. daily. This schedule does not affect individuals that wish to file a new claim."
As of Tuesday morning, the state had received 1.94 million claims since March 15, with 824,412 considered "unique," as some people have filed duplicate claims. Of the unique claims, the state had processed 664,158, or 80.6 percent, and made weekly payments of up to $275 to 392,051 people, or 47.6 percent. About 37 percent of the processed applicants had been deemed ineligible for unemployment compensation. Payments had totaled $523 million.
–Source: The News Service of Florida
---
| | | | | |
| --- | --- | --- | --- | --- |
| | 4/27/20 | 4/28/20 | | |
| | 11 a.m. | 11 a.m. | Increase | |
| Total Cases | 32138 | 32846 | 708 | 2.20% |
| Florida Residents | 31290 | 31986 | 696 | 2.22% |
| Non-Fla. | 848 | 860 | 12 | 1.42% |
| Deaths | 1088 | 1171 | 83 | 7.63% |
| | | | | |
| Escambia | 470 | 485 | 15 | 3.19% |
| Okaloosa | 149 | 152 | 3 | 2.01% |
| Santa Rosa | 150 | 151 | 1 | 0.67% |
| | | | | |
| Broward | 4794 | 4847 | 53 | 1.11% |
Top 20 Florida Counties
| | | | | |
| --- | --- | --- | --- | --- |
| Rank | County | Population | Cases | Per 30K |
| 1 | Dade |     2,715,516 | 11831 |    130.70 |
| 2 | Broward |     1,924,229 | 4847 |      75.57 |
| 3 | Palm Beach |     1,446,277 | 2877 |      59.68 |
| 4 | Orange |     1,321,194 | 1363 |      30.95 |
| 5 | Hillsborough |     1,378,883 | 1080 |      23.50 |
| 6 | Duval |        924,229 | 1001 |      32.49 |
| 7 | Lee |        718,679 | 990 |      41.33 |
| 8 | Pinellas |        957,875 | 709 |      22.21 |
| 9 | Collier |        363,922 | 568 |      46.82 |
| 10 | Manatee |        373,853 | 563 |      45.18 |
| 11 | Escambia |        311,522 | 485 |      46.71 |
| 12 | Osceola |        338,619 | 474 |      41.99 |
| 13 | Polk |        724,777 | 457 |      18.92 |
| 14 | Volusia |        527,634 | 445 |      25.30 |
| 15 | Seminole |        455,086 | 374 |      24.65 |
| 16 | Sarasota |        412,144 | 334 |      24.31 |
| 17 | Clay |        207,291 | 272 |      39.36 |
| 18 | Brevard |        601,942 | 268 |      13.36 |
| 19 | Alachua |        263,148 | 255 |      29.07 |
| 20 | Pasco |        510,593 | 239 |      14.04 |
Top  5 Florida Counties – per capita (min 250 cases)
| | | | | |
| --- | --- | --- | --- | --- |
| Rank | County | Population | Cases | Per 30K |
| 1 | Dade |     2,715,516 | 11831 |    130.70 |
| 2 | Broward |     1,924,229 | 4847 |      75.57 |
| 3 | Palm Beach |     1,446,277 | 2877 |      59.68 |
| 4 | Collier |        363,922 | 568 |      46.82 |
| 5 | Escambia |        311,522 | 485 |      46.71 |