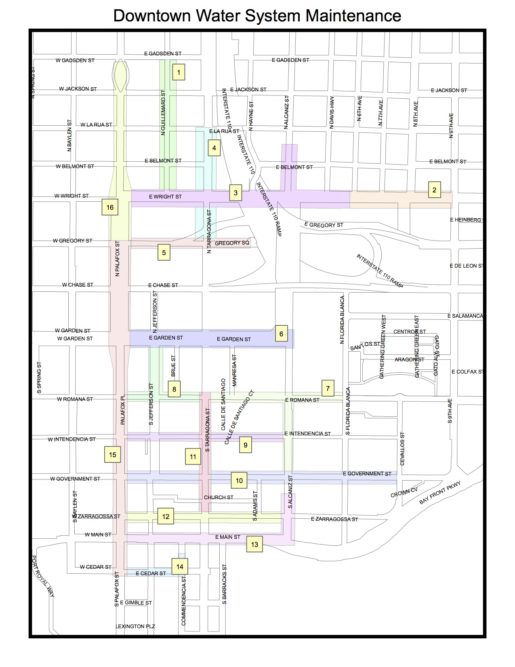 This past summer, ECUA began a maintenance project of the water system in the core of downtown Pensacola. The purpose of this project is to improve flows and water pressure in this area, as well as maintaining water quality.
The next phase of this project is scheduled to begin on January 4 and end on February 19. The ECUA sent a notification letter to all customers in the project area in mid-December. Once this next phase of the project begins, water service will be temporarily interrupted to 16 separate sections of the downtown core. Each area is expected to be affected for two to four consecutive nights. In order to minimize the inconvenience to our customers, ECUA will schedule and conduct most of the work at night after most businesses and restaurants are closed, and we will restore service in the early morning hours. Any water service interruption will typically last from 10 p.m. to 5 a.m.
ECUA crews will be working in a generally southwesterly direction, beginning with Section 1 on January 4, from 9:00 p.m. to 5:00 a.m., in the vicinity of Guillemard and Gadsden Streets and working toward the Palafox Street area. As work progresses from one section to the next, we:
· will issue a press release advising media of the area of work.
· will send an automated telephone call a few days in advance of the work to notify affected customers of the impending water interruption for that area.
· will distribute a door hanger notice in advance of the work in the designated section.
· invite customers to follow our progress online on the ECUA website at www.ecua.fl.gov/advisory, where we will regularly post updates and any necessary variations to the schedule and where they may view a Fact Sheet about the project.
A precautionary boil water notice for the affected area will be issued after the first night's work and will continue until approximately 48 hours after the work is completed in each section. Precautionary boil water notices are issued as part of standard protocol after any loss of water pressure, whether as a result of unplanned water outages or planned utility work. For convenience, customers may wish to store water ahead of time for drinking and cooking purposes. Guidelines to precautionary boil water notices are available on the ECUA website under the News & Reports tab.
Residents and businesses located in the designated areas may anticipate some fluctuations in water pressure during the flushing activities. Temporary discoloration of the water is common and possible as a result of the flushing/maintenance activities. This is normal and may be corrected by running the cold water only at your faucet for ten to fifteen minutes. These effects should be minimal, with absolutely no ill effects to customers' health and no long-term adverse impacts on the system.
Contact Information:
Nathalie Bowers, Public Information Officer, 969-3303
Cory Snyder, Project Engineer 969-6678