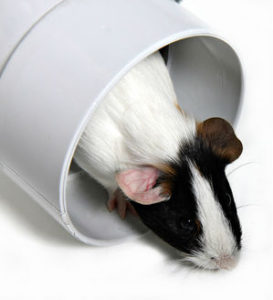 The Emerald Coast Utilities Authority (ECUA) Board voted on May 29, to accept a recommendation from its Citizens' Advisory Committee to decline to participate in a Florida Department of Transportation (FDOT) project as currently designed. Instead, the Board intends to petition to work with the FDOT and the U.S. Fish and Wildlife Service (USFW) to discuss and consider alternate project approaches and timeliness that would make the utility relocation aspects of the project more economically acceptable to the ECUA ratepayers.
The project in question is known as the Perdido Key Mouse Crossing project, in which FDOT plans to install four mouse crossings on Perdido Key Drive, in an attempt to gain USFW approval of the Project Design and Environmental (PDE) report for the future 4-laning of Perdido Key Drive. ECUA has an 8-inch water main, a 12-inch water main, and a 12-inch force main at each of these crossing locations. The crossing design in the current FDOT plans conflicts with all three of the ECUA facilities at each of the four crossings, for a total of twelve conflicts. Relocation for these twelve conflicts would be extremely difficult and is estimated to cost from $500,000 to $1,000,000. The FDOT's estimated cost to construct the actual mouse crossings is approximately $100,000.
"Typically, we have 2-5 years' notice on proposed FDOT projects, which provide us with the opportunity to anticipate any utility relocation costs and budget accordingly," says Steve Sorrell, ECUA executive director. "In this case, we've received about 2 months' notice." Nevertheless, ECUA staff was able to meet with FDOT District 3 personnel in Chipley, FL, in an effort to discuss alternatives. Some of the alternatives offered to FDOT could substantially mitigate the impacts to ECUA's facilities or possibly eliminate the conflicts altogether. However, FDOT officials have indicated that they are not considering any of the alternatives proposed, and intend to construct the experimental mouse crossings as planned.
In addition, the FDOT has accelerated its project schedule, and desires to begin installations of these crossings September 2, with completion by October 31 of this year. This will require utility relocations during the summer months, with completion by late August. Perdido Key Drive is the major thoroughfare on Perdido key and the area's primary evacuation route, and relocating utilities during this timeframe would coincide with the busy tourist season and at the height of hurricane season. Ordinarily, if ECUA chose to relocate its facilities based on the current design, and using standard timeframes for design, bidding, and construction, relocations would not be completed until February 2015.
A further disincentive to the ECUA Board's support of the project as it currently stands is the indication from FDOT staff that the crossings are considered experimental, and they may or may not be used when the road is widened. They may have to be removed and replaced to accommodate any widening project. ECUA staff also believes with certainty that any crossings installed today will be removed or replaced when the 4-laning project occurs in the foreseeable future, perhaps within 4-6 years, and at the same or greater cost.