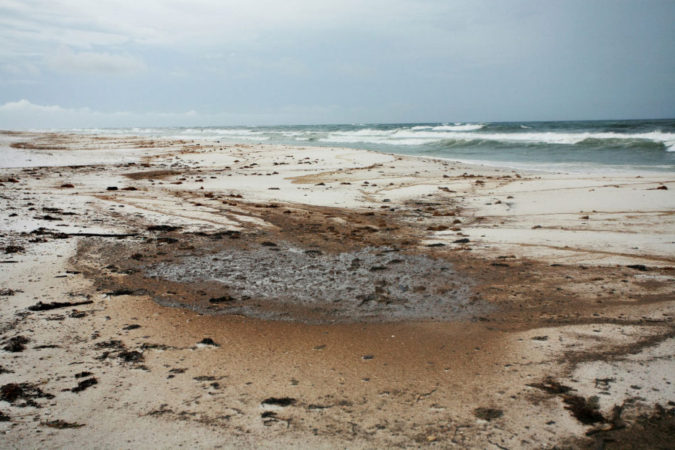 The Escambia Board of County Commissioners will consider its Triumph Gulf Coast priorities at its Committee of the Whole at 9 a.m. Commission Chair Doug Underhill asked the five elected governing boards in Escambia County–City of Pensacola, Town of Century, Escambia County School Board, Emerald Coast Utilities Authority and Soil & Water Conservation Board–to submit their lists of projects.
The Pensacola City Council failed to approve a list when it met last week. Councilmen Larry Johnson, Brian Spencer and Andy Terhaar were absent. Councilman P.C. Wu refused to vote on any council item without the other members in attendance. Without four votes, the council could not approve any projects.
Mayor Ashton Hayward forwarded his requests without a council vote. Soil & Water is the only board other than Pensacola City Council that do not send in any projects.
The lists totaled $850 million. There are also another 17 county projects without cost estimates.
Of course, the BCC can't expect get Triumph dollars to fund the entire list. Through 2033, the non-profit will distribute $1.5 billion to the Panhandle counties impacted by the 2010 BP oil spill.
Triumph has $300 million in the bank to distribute now.
| | |
| --- | --- |
| Mayor's Office  |   |
| City of Pensacola  | |
| 1. Pensacola Airport MRO Hangar Expansion | $5M |
| 2. Port of Pensacola Warehouse 4 | $15M |
| 3. West Main Street Corridor Improvements | $2.5M |
| 4. Baywalk | $2.435M |
| 5. CMP Marina | $2.1M |
| Port of Pensacola Berth 6 | $14M |
| Maritime Park Excursion Ship Dock | $1M |
| Pensacola Passenger Rail | $450,000 |
| Pensacola Downtown Business District Parking Infrastructure | $11M |
| Sanders Beach Stormwater Park | $4.394M |
| Fire Training Simulator & Emergency Management Training | $300,000 |
| Total | $58.18M |
| | |
| City CRA  | |
| Devilliers, Reus and "A" Streetscape | $20.8M |
| Hollice T. Williams Urban Greenway | $18.9M |
| West Cervantes Street Cooridor Management | $31.5M |
| West Moreno Stormwater Park and Streetscape | $9.1M |
| Youth Environmental Empowerment Program | $1M |
| Total | $81.3M |
| Mayor's Office/CRA Combined | $139.48M |
| | |
| Town of Century  | |
| Town of Century Sewage Lift Station Repair | $1.291M |
| Wastewater Treatment Plant Improvements | $338,897 |
| Century Grown | $30,000 |
| Centry Community Recreation & Youth Development | $2.5M |
| Century Workforce Development & Readiness Program | $750,000 |
| Total | 4.91M |
| | |
| Escambia County School Board  | |
| Second High School Cybersecurity Academy | $233,500 |
| Advanced Manufacturing Talent Pipeline | $641,700 |
| BTWHS Aviation Maintenance Academy | $250,000 |
| K-5 STEM Initiative for Escambia | $350,000 |
| George Stone Aviation Maintenance Hangar | $300,000 |
|  Total | $1.775M |
| Emerald Coast Utilities Authority  | |
| Navy Boulevard (East)- Sewer Expansion Project | $2.405M |
| Downtown Sewer Expansion | $2.5M |
| Navy Point Sewer Expansion- Phase IV | $2.560M |
| South Brownsville (Mobile HGWY) Sewer Expansion | $1M |
| Holsberry Lane Sewer Expansion | $2.3M |
| Total | $10.765M |
| Combined other agencies | $251.11M |
| | |
| --- | --- |
| Escambia County BCC Department Projects  | |
| Godwin Lane Pit Regional Pond & Conveyance Improvements | $700,000 |
| Dunaway Lane and Klondike Road North of Mobile Highway | $2.2M |
| Beach Haven Area Drainage and Sewer South | $12M |
| Navy Point & Gulf Beach Hwy Drainage | $700,000 |
| Pinehurst-Twin Oaks Gulley | $3M |
| East Brownsville Sanitary Sewer | $3.35M |
| Pensacola Beach Basin Study Plan Update and Implementation | $3M |
| Woodlands – Scenic Hills–St Luke's Church Stream Restoration | $4M |
| Bristol Park- Ashbury Hills Area of 11-Mile Creek Stream Restoration | $12M |
| 11 Mile Creek Basin Regional Ponds Project | $1.5M |
| Escambia Next Generation Bridge Replacement Project | $121.1M |
| Escambia Bridge Rehabilitation Project | $12.5M |
| CR4 Bridge @ Canoe Creek Project | $1,075,034 |
| Quintette Road Bridge Replacement Project | $60M |
| Bob Sikes Bridge – Bridge Replacement | $250M |
| Beulah Interstate Connection | $75M |
| Pensacola Beach Congestion Management Plan | $20M |
| CR184 (Muscogee Road) Roadway and Drainage Project | $10M |
| MS4 Internship Program | $20,000 |
| Fiber for Escambia County | $25.3M |
| ADA & Safety Improvements to Public Waterway Access Sites | $16M |
| Swamp House Marina Acquistion | $1.5M |
|  Total | $634.93M |
| | |
| Grand Total | $850.04M |
| | |
| | |
| Carpenter Creek & Bayou Texar Revitalization (Pot 1) | $N/A |
| Ecotourism Diving/Snorkel Reef | $N/A |
| Fire Training | $N/A |
| Hollice T. Williams Stormwater Park (Pot 1) | $N/A |
| Marine Research Facility | $N/A |
| Midtown Commerce Park | $N/A |
| Mitigation Bank | $N/A |
| OLFX/8 | $N/A |
| Perdido Key Gulf of Mexico Public Access (Pot 1) | $N/A |
| Perdido Key Multi-Use Path (Pot 1) | $N/A |
| Port of Pensacola Berth 6 | $N/A |
| Project Universal Access (Pot 1) | $N/A |
| Regional Trail Connector (Southwest Greenway/North-South Connector) | $N/A |
| SOAR with RESTORE (Pot 1) | $N/A |
| The Bluffs | $N/A |
| Bayou Chico | $N/A |
| Sport's Complex (Bay Center Replacement) | $N/A |