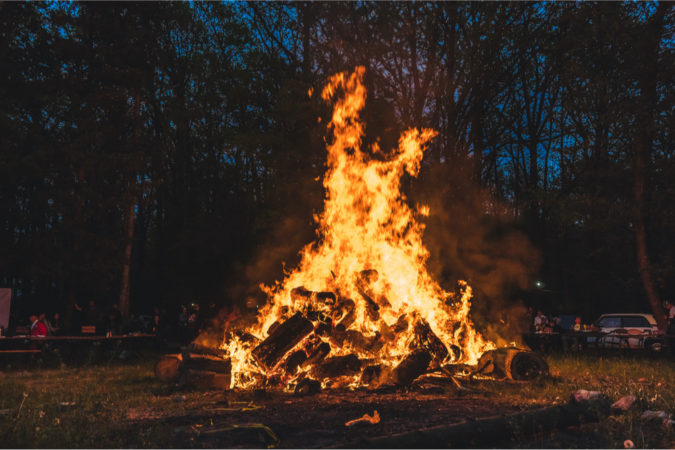 The Escambia County Fire Chief has issued a burn ban order effective Wednesday, May 13 until further notice. The announcement was sent out after 5 p.m. and cited "the unseasonable weather including extended periods of time without substantial precipitation, low humidity and windy conditions" as reasons for evoking the ban.
The Fire Chief is given the power to ban outdoor burning under Escambia County Ordinance 2000-21, Art. II, Sec. 50-1, which provides for the prohibition of the use of fireworks or open burning when the Fire Chief determines that there is an immediate fire-borne threat to the public health, safety and welfare of the residents of Escambia County.
Read Escambia County Order of Prohibition (Fire Safety).
Though the ban wasn't discussed publicly by county commissioners and the ordinance doesn't require their support, the announcement said, "The Escambia County Board of County Commissioners and the Escambia County Fire Chief find the present circumstances create a public safety hazard that would be exacerbated by outdoor burning."
It also stated Escambia County Public Safety, under which the Fire Department resides, and the Florida Forest Service support the county-wide burn ban.
The political puffery is silly in what should have been a straight-forward announcement that should have been made much earlier in the day…many even days ago.
The order prohibits–in both the incorporated and unincorporated areas of the county–activities "carrying out of open burning" such as:
campfires,
wildfires,
bonfires,
trash burning and
other similar forms of incineration.
Exempt activities:
state permitted burns,
fire department training,
authorized fireworks displays and fireworks sales which are authorized by state law, and
outdoor cooking in barbecue grills, smokers, or other outdoor stoves located at private residences and businesses.
This prohibition will remain in effect until terminated by public notice issued by the Fire Chief of Escambia County Fire Rescue when taking the following into consideration: precipitation, humidity, the Keetch Byram Drought Index, the Florida Forest Service Fire Danger Indices and the fire-borne threat otherwise has ended.
The county did produced a nifty poster and a youtube video – which probably explains the delay in announcing the ban or may be someone needed to burn a few things before it went into effect. :-)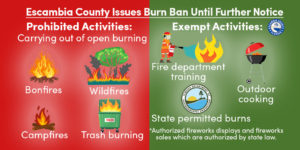 The video has had 31 views as of 8:45 a.m. – worth the delay?