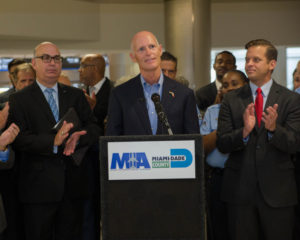 Press release: The state's unemployment rate for September stands at 5.2 percent, down 0.2 percentage points from August's revised number. September's preliminary figures are the lowest for Florida since Feb. 2008.
The latest monthly data, released by the Department of Economic Opportunity on Friday, show an estimated 497,000 unemployed Floridians in September. That's a drop of about 12,000 from August, in a workforce of approximately 9.5 million. Florida's unemployment rate continues to hover just above the national mark, which has been stuck at 5.1 percent for two consecutive months.
Gov. Rick Scott, who announced the latest job figures at DS Services in Lakeland Friday morning, boasted in a press release that 8,700 new private-sector jobs had been added in September, and highlighted that "our unemployment rate is at the lowest level in seven years."
DS Services — a distributor of bottled water, office coffee and water-filtration systems — is expected to add about 100 jobs by the end of this year, according to Scott's office.
September's unemployment drop comes as the August figure, first posted at 5.3 percent, was recalculated to 5.4 percent. The August adjustment was the third consecutive month that the preliminary monthly jobless rate had to be revised upward; and the fourth time this year that the unemployment rate climbed after the review of additional jobs data.
Statewide, the biggest employment gains from August to September were in the fields of leisure and hospitality — with 7,200 new jobs — and private services, which added 7,000 jobs. The construction industry also added 3,200 positions since August. Meanwhile, manufacturing shrank by 1,500 positions, professional and business services lost 3,800 positions and the combined fields of education and health services dropped 2,300 jobs. There were also 6,600 fewer government jobs.
According to Scott's office, over the past year 41,100 new jobs were created in the Orlando area, followed by 28,000 in Tampa, 22,000 in Fort Lauderdale, 21,000 in Miami, 16,000 in Jacksonville, 11,000 in West Palm Beach, 4,200 in Naples and 3,600 in Pensacola.
—-
The number jobs announced created in Pensacola over the past year is down from the September press release – then the governor's office announced 3,800 jobs created over the year. In July, the governor announced 3,900 new jobs.
The area's unemployment rate did decline by 0.2 percentage points in September, from 5.2 percent in August 2015 to 5 percent in September 2015.
The Pensacola metro area has fewer online job openings than a month ago: 5,289 job openings in September 2015 down from 5,880 in August 2015. However, the openings for high wage, high skill science technology engineering math (STEM) occupations are fairly consistent– August 2015: 1,156 openings, September 2015 1,148 openings.