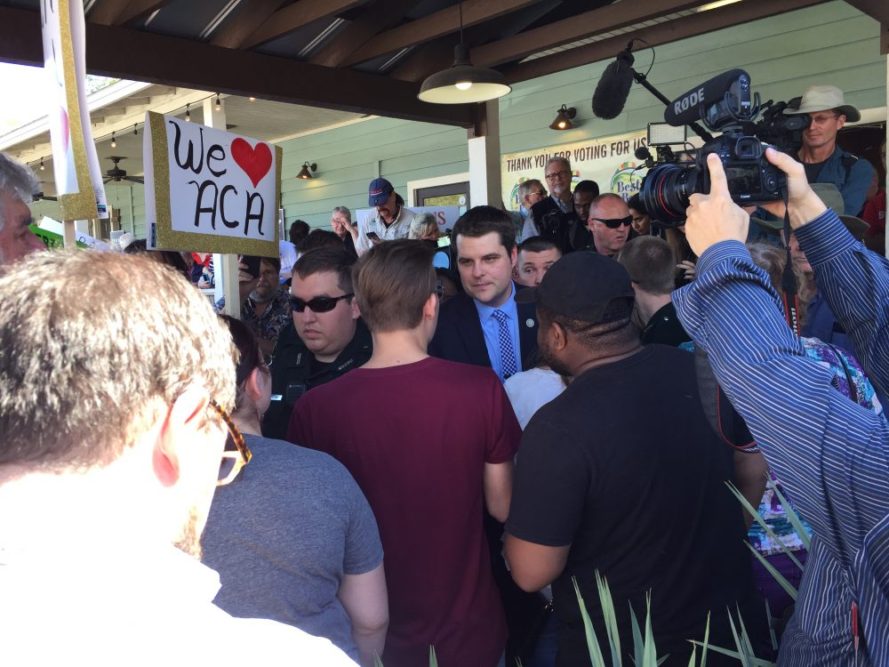 By Duwayne Escobedo
Inweekly
U.S. Congressman Matt Gaetz admitted that the national media attending his inaugural "Open Gaetz Day" event at Grover T's BBQ probably wanted to see him on the menu.
But in the face of the media spotlight and hundreds of protestors outside the restaurant marching with signs that read "Abolish Gaetz," chanting "Shame on you!" and calling him a traitor and hurling other insults his way, the 34-year-old Republican didn't back down.
Despite the chaos outside, Gaetz held a civilized debate on many issues with about 75 supporters and opponents inside the Milton BBQ joint. He joked a group of Avalon Middle School seventh graders Thursday grilled him the hardest.
"I make no apologies," Gaetz said, vowing to fight Obamacare that he called a "wet blanket over our economy" and said Congress would repeal it this year.
Gaetz, though, did admit he supported people being able to get health insurance if they had a pre-existing condition and allowing people up to the age of 26 to stay on their parents' healthcare coverage. Gaetz said he supported tax credits for individuals to afford health insurance.
Gaetz explained the nation's future healthcare plan should attack costs. He said the post-World War II healthcare system places the burden on employers. He believes every American should be allowed to get their own health coverage that would travel with them from job to job. He supported coverage for the disabled, children and seniors and the "truly impoverished."
"We want (health insurance companies) competing for our business," he said.
Gaetz, who sits on Budget, Armed Services and Judiciary committees, said Congress would also fix the American tax system this year.
"We can't just cut spending," Gaetz said. Gaetz argued that big business needs to pay it fair share. And federal lawmakers need to broaden the tax base so it can lower taxes for individuals.
He also explained his reasons for sun setting the U.S. Environmental Protection Agency in two years and abolishing the U.S. Department of Education. He said the EPA wastes its $8 billion budget by giving $27 million to other countries to solve their environmental problems.
"I want to keep our high environmental standards. I'm an environmentalist and conservationist," Gaetz said. "Our environmental problems will not be solved by some EPA regulator." He explained state environmental agencies, university environmental experts would move faster and more effectively to solve environmental problems.
Among other policies, he said he would restructure the Veteran's Administration to make it more responsible to military men and women, supports tying American aid to Middle East countries based on how much they support the United States' fight against the ISIS terrorists, and backs President Donald Trump's efforts to build a wall along the Mexican border and change immigration laws to support what the United States needs when it comes to skilled workers.