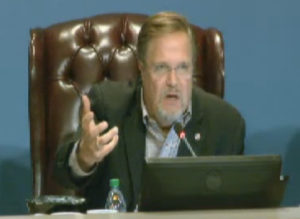 As the Escmabia County RESTORE Act Advisory Committee gets its feet wet, county officials have varying views on exactly how the body should function.
"We're a little concerned," Interim County Administrator George Touart told the Escambia County Commission during yesterday's Committee of the Whole meeting. "There's been a little bit of a directional problem."
The RESTORE committee—seated by the commission to deal with the potential Clean Water Act fines headed toward Escambia as a result of the 2010 oil spill—expressed a desire earlier this week to take a more active role in establishing criteria for how best to use the funds. Community and Environment Director Keith Wilkins relayed the committee's message to the commission.
"They would like to make recommendations to the board for the criteria," he explained.
Commission Chairman Gene Valentino stressed that the county commission would have final say over any of the matters stemming from the committee. He said committee members should have a grasp on "our visions, our direction, those things that are hot, those things that are not."
"And everyone on that board needs to realize that, Keith," the Chairman said. "And I hope you continue to remind them, it's only recommendations they're making. Not going in the other direction, with us abandoning our entitlements up here and giving it to them."
Commissioner Grover Robinson was more receptive of the committee's request. He said he could appreciate the advisory committee's desire to be more involved.
"I certainly have no problem with them coming up with their own criteria," he said. "I think that would be very good for us to hear and listen and go from there."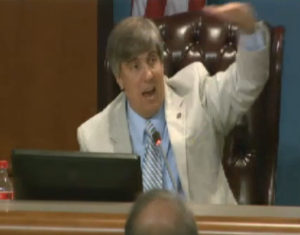 Robinson said the committee should be free to figure out how to use the RESTORE money for "things that transform us." He advised against simply dolling out money for projects already on the county's radar projects already making the county's Local Option Sales Tax wish-list.
"They've taken their time to serve, let them serve and figure out what we're going to do," the commissioner said. "Otherwise, if we're going to make them a projects committee, we'll make them the LOST committee and we'll just throw up every LOST unfunded project and we'll throw it to them."
Commissioner Wilson Robertson headed in the opposite direction.
"This $100 million, or maybe a little more, is not going to change this community for the next hundred years, let's not kid ourselves," he said, contending that the money should be focused toward "shovel-ready" projects. "—you'll get through that $100 million so fast it'll make your head swim."
Robertson also addressed what he described as "negative junk." He disputed the notion that "the only reason we brought George back is so we could find all the money and spend it from the RESTORE Act to take care of our contract buddies."
"And every time I mention the Beulah exchange that's all the contract buddies that contributed to my campaign," the commissioner continued. "Most of those have lost the property, or not even involved and have nothing to do with the interchange in Beulah."
Robertson requested that if anyone "ever hears that me or George or Gene or anybody else has tried to tell any of these board members how to spend the money, how to recommend we spend the money, or influence them on ways to spend the money, I want them to let us know immediately, because I'm sick and tired of these accusations."
Wilson also took a swipe at what he termed "negative reporting," specifically describing the Independent News and its "blogging" as "just about 99 percent a joke, anyhow."
"But sometimes," he complained, "these actually reach—the Independent News, I won't accuse the PNJ—but they reach, actually, into the point of a news story."
Valentino suggested that the RESTORE committee use economic development criteria laid out by the Greater Pensacola Area Chamber of Commerce as a "starting point." He also advised that the committee should use its initial meetings as "dryruns' and "mock practice sessions," during which the committee would practice assessing "dummy applicants."
The chairman also floated the concept of curtailing public comment at the RESTORE meetings. He said the public should wait and address their comments to the county commission once the advisory committee has made its recommendations.
"If you allow public comment to occur at the advisory level," Valentino said, "I think we're confusing these neophytes—and I mean that nicely—we're gonna get, they're gonna get derailed, I fear."
Robertson responded that the public should be allowed to speak at the committee meetings. He said they could speak again when projects began coming to the full commission.
"Well, then, I yield—I wasn't trying to deny the public the right to speak, I was simply saying I hope the committee does not get derailed in their ability to use their good judgement," Valentino said. "If you want public input at the advisory committee level it's okay with me. I just hope they're not derailed … mark my word, I hope they're not derailed."