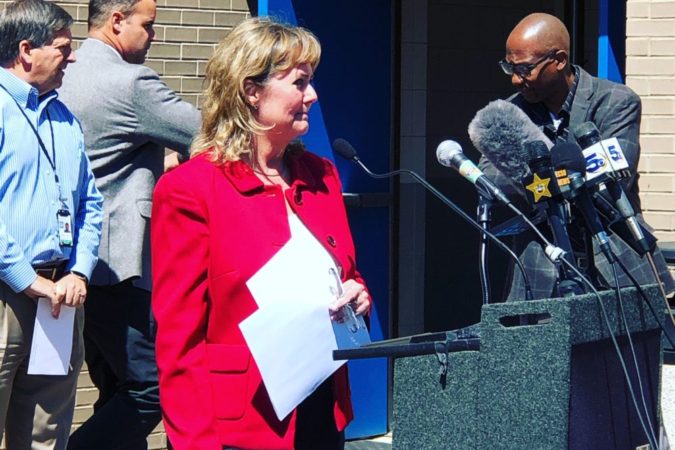 Escambia County is among the only four counties with over 4,100 COVID-19 cases that doesn't require their employees to wear face masks. County Administrator Janice Gilley has no intention of joining the 10 counties that do.
At her first press conference since April 1, Gilley refused to change her policy despite an uptick in cases in public safety, corrections and human resources.
"What we've done is we've asked county employees when they can't physically distance from others, to make sure that they protect themselves," she said during the virtual presser.
"No, we've not mandated it, but most of our employees do have offices in which they can work, which means they are segregated from the other employees. And then those that do ride in vehicles together, we are making sure that they wear a face mask if they are in a closed confined space."
Gilley said some of her employees have complained about difficulties in wearing face coverings. She said, "We are doing our best to make sure that we are being very respectful of each other's distance and space. And so that's why it hasn't been mandated."
Even though the county jail has more than eighty inmates and over a dozen staff infected with the virus, Corrections Chief Powell said at the presser that he hasn't mandated for his jail staff.
"It's highly encouraging our staff—the majority, if not all, are participating and the same thing with the inmate population," he said. "The expectation is if they're transported out of their housing unit, that they'll put a mask on."
On Thursday, July 9, Powell had to suspend his prisoner road crews because someone hadn't followed his "expectation," leading to an infection.
When asked how effective her $250,000 marketing campaign to encourage residents to "mask up" would be if they see her employees not wearing masks in county buildings, Gilley said, "I'm not completely convinced that they're going to go in there and not see employees wearing masks. But I also know that we have put where we have the citizens coming in to meet with our employees, we've put up these, what I would say, Plexiglass barriers."
She added, "We've encouraged masks and we've encouraged folks to do what we said and avoid those three C's. And I think the education piece of this is one of our main issues that we're trying to get across. And if you're not comfortable, we would definitely make sure that we provide other ways for the citizens to be able to work with our employees."
One department that has required his staff to wear face masks when in public, Gilley's new public safety director, Jason Pueters, whose favorite phrase when he discusses COVID precautions is "leaning forward."
Inweekly asked him if he believed wearing face masks was considered "leaning forward."
"I'll speak to the public safety crews," Peters replied. "I would consider that to be yes, because we're worried about their health, safety, and welfare."
---
NorthEscambia.com has pointed out how the COVID-19 infections have begun to impact county services.
Emergency Medical Services: "When seven vehicles wrecked at Highway 29 and Muscogee Road in Cantonment Friday evening, a Lifeguard EMS unit responded instead of an Escambia County ambulance. That's because with employees out due to COVID-19, Escambia County EMS is shorthanded."  Read more.
Recycling: "Escambia County is closing all public recycling locations effect Monday due to impacts from COVID-19. Inmate crews from Escambia County Corrections are used to manage mess from illegal dumping at the sites. Those inmate road crew program was suspended." Read more.