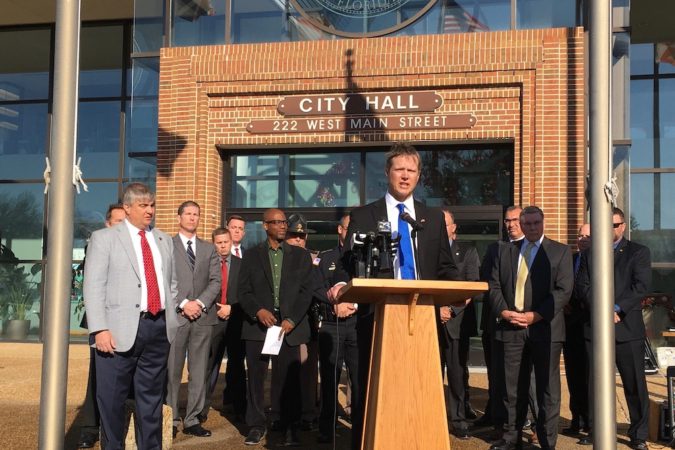 A collective of local, state and federal law enforcement agencies have been working together for the past three months in an effort to address the issue of gun violence in the Pensacola area. As a result of the partnerships, more than 100 arrests have been made both in the immediate area as well as outside the state of Florida.
"Unfortunately, gun violence has become all too common and big of a problem," Pensacola Mayor Grover Robinson said during a Wednesday press conference where the arrests were announced.
Alongside the mayor was Pensacola Police Chief Tommi Lyter, as well as Larry Keefe, U.S. Attorney for the Northern District of Florida, State Attorney Bill Eddins and others. Together they fielded questions about the operation dubbed Protect Pensacola, which was carried out by a joint task force consisting of such agencies as the Federal Bureau of Investigation, the Drug Enforcement Administration, Bureau of Alcohol Tobacco, Firearms and Explosives and Homeland Security.
Local officials requested help in addressing gun violence in the area this past summer. The request followed a number of local incidents involving guns, including one during which Elizabeth Holmes was shot and killed at the Platinum Club in May. One of the 117 arrests made as part of Protect Pensacola was of a fourth suspect in Holmes' death — Cordellious Lashawn Dyess was arrested near Atlanta by the United States Marshals Southeast Regional Fugitive Task Force on a multiple-charge warrant.
"At least there's some level of comfort in that we got the four bad guys responsible for her murder," said Chief Lyter.
The mayor and police chief, as well as Escambia County Commissioner Lumon May noted that the out of area assistance was integral in addressing the region's gun violence issue.
"We certainly understand that we're all in this together," May said.
"The city of Pensacola could not have done this alone," Robinson said.
U.S. Attorney Keefe said that the joint task force operation was a phased affair, with Wednesday's announcement of 117 arrests marking the first phase, during which agencies followed leads gathered during initial investigations.
"It's just old fashioned police work," Keefe said of the methods used by the agencies on the task force.
At the same time Wednesday's announcement celebrated the progress made, local officials stressed that, as Chief Lyter said, "this didn't solve crime in Pensacola."
"We're not naive enough to think that everything's over," Mayor Robinson said.
While the Protect Pensacola task force will continue to work cases involving guns, the following phases of the operation will also take a turn towards training of local law enforcement officer and prevention efforts aimed at citizens.
Some of the training will take place in late January and will be administered through the U.S. Department of Justice Bureau of Justice Assistance Survive and Thrive program. The officer training will focus on safety and preparedness, officer-citizen encounters, leadership and critical decision making.
Additional officer training was one of several recommendations made by a recent grand jury considering an event this past July during which a PPD officer fatally shot an unarmed man during a traffic stop gone bad.
Also to come in the joint task force operation are grant funding opportunities for the local area. Mayor Robinson pointed to some efforts he would like to see funded, such as programs designed to engage youth from neighborhoods where residents have traditionally viewed law enforcement as suspect.