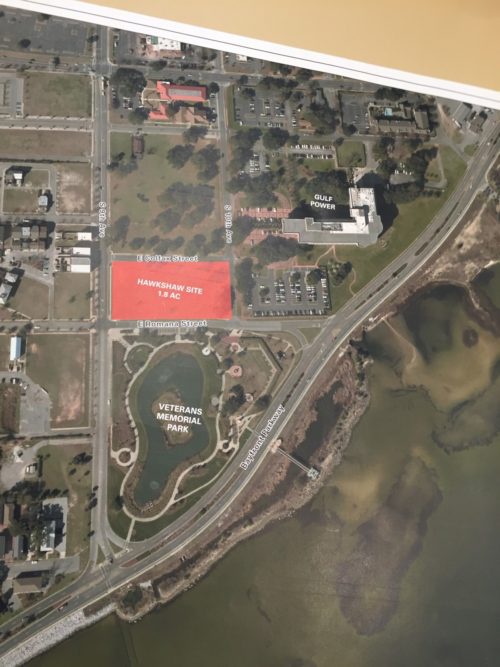 Want to start a debate at City Hall? Just ask Pensacola citizens what should be built on the 1.8-acre, city-owned Hawkshaw property.
Renowned design firm Urban Design Associates asked for public input on the property that the city has owned for 20 years and twice rejected proposals before in 2004 and 1995. Last year, it rejected $775,000 for the site and a plan for 30 condos. The city has had the site appraised at $1.7 million.
The Pittsburgh-based firm got as much input as the city has gotten plans for the site sandwiched between Gulf Power headquarters and high-cost residential development Aragon Court. It is also on the north side of the street from the Veterans Memorial Park.
Ideas went on and on but included:
• A museum honoring veterans and displaying the gifts and other items left at the Vietnam Memorial wall that names those who lost their lives in that war.
• An affordable housing complex for millennials who want to live near downtown.
• High-end housing that blends with the Aragon Court concept.
• Another downtown hotel.
• A mixed-used development with both shops and residential development.
• A corporate office.
This "listening" meeting was the first of three meetings that Urban Design Associates plans to hold. In 60 days it will come back with renderings from input from Tuesday's meeting at the Hagler-Mason Conference Room at City Hall and seek public comment. A third meeting will theoretically help finalize the direction the CRA plans to take in requesting development bids from private developers.
"This city has changed enormously since the last time we showed up," said Rob Robinson, Urban Design Associates chairman. "You have a whole different atmosphere here."
About 30 concerned citizens, many of them Aragon residents, attended the meeting that turned into vigorous debate.
Will Dunaway, a Clark Partington and Hart attorney and the current president of the NAIOP Commercial Real Estate Development Association, pointed out in the past: "There was not enough of a common vision. Just tell us what the rules are."
Pensacola City Councilman Brian Spencer admitted the city is in a quandary because it lacks the density of bigger American cities. "We want a reality-based project here," he said. "Until we have the density, unfortunately, we'll see butcher paper in the windows" of mom-and-pop businesses.
Andrew Rothfeder, President of Studer Properties, is in charge of the building of a 260-unit apartment complex in the center of downtown. He reported the waiting list is up to 570 individuals and families for the project.
He argued there was nothing special about the Hawkshaw property. He said, "It's just another piece of real estate," Rothfeder said. "Millenials do not want to live here. They want to be in the center of action."
Developers pointed out Aragon has had trouble, so far, developing restaurants, shops and other businesses along the Ninth Avenue corridor that residents want to go to.
Whatever it ends up being, Aragon resident Kevin Hagen, a builder, expressed his opinion that in the end he doesn't want to see a "massive" tower or building. "It has to relate to everything around it," Hagen said.