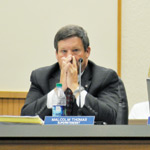 School Superintendent Malcolm Thomas and his attorneys will be in the courtroom of Judge Ross Goodman for an evidentiary hearing on Case No. 2014-CA-001741, Cynthia Miller and Kevin Miller on behalf of their minor child, Terik Miller vs. Escambia County School Board, Malcolm Thomas, Michael Sherrill (principal at Escambia High) and Escambia County School District. The Millers' attorney, Robert Rushing, is seeking an injunction and declaratory relief. See 10 – Notice Evidentiary Hearing.
The daily newspaper has published much on alleged recruiting violations at Escambia High. The backstory is far more interesting and reveals how the School District continues to be selective in how it metes out punishment and how vengeful the superintendent can be when he feels someone has crossed him.
On Friday afternoon at 4:49 p.m., Thomas released the Florida High School Athletic Association's (FHSAA) ruling on the investigation of Escambia High School's (EHS) football program (FHSAA Report of Violations Letter to EHS.6). He said that after reviewing it the evidence was "clear, convincing, and compelling" that major violations of recruiting occurred.
FHSAA based its ruling on a report written by Thomas' investigators. The families weren't allowed to review any of the allegations in the report. Their children were interrogated without their parents' knowledge or consent, without any adult representation. The families did not even know the contents of the school district's report until reading it on the News Journal's website this past weekend.
Thomas has allowed Terik Miller to be tried in the court of public opinion, giving him no opportunity to defend himself except through the courts. Read the complaint to get the other side of the story – 7 – Amended Complaint Injunc and Dec. Relief