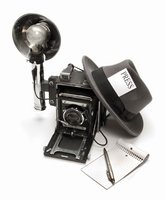 This "Public Record" column was originally published July 10, 2010:
The first radio station to broadcast in Pensacola was WCOA. It was an AM station that premiered just six years after the birth of radio.
WCOA was founded by the City of Pensacola under Mayor J. Harvey Bayliss. City Clerk John E. Frenkel, Sr. served as the manager of operations. It was Frenkel who came up with the call letters of WCOA, which stand for Wonderful City of Advantages. The original equipment was purchased for $3,500, and a studio was set up on the second floor of City Hall.
It was a cool night on Feb. 3, 1926 when hundreds of people gathered in Plaza Ferdinand to hear the first sounds of radio in Northwest Florida. At precisely 8:30 p.m. WCOA went on the air, and the broadcast was piped over a large horn on top of City Hall. Locals who owned receivers could tune in to the 250-watt signal that was emitted from two 100-foot towers located behind City Hall.
Frenkel, who used the moniker Breezy Boy from the Gulf, hosted the first program. It featured local talent, city officials and representatives of area military bases. The grand finale was a rendition of a song called Down Pensacola Way that was penned especially for the big unveiling. According to letters and calls, over 700 people listened to the first broadcast.
When the city government changed form in 1931, WCOA was purchased by John C. Pace and the studios were moved to the San Carlos Hotel where they remained until 1949. One of the most significant events that occurred during that time was the crash of the Hindenburg in 1937. Radio stations all over the country broadcast live coverage of the unlikely tragedy, but WCOA was the only one who recorded it. Engineers left the tape rolling from the previous show and inadvertently archived a powerful moment in world history.
WCOA operated for many years as an affiliate of NBC. The programming featured middle of the road music, news and sports. The station's popularity grew. In 1956 when WCOA celebrated 30 years on the air, congratulatory telegrams were received from musicians such as Nat King Cole and Frank Sinatra.
The station changed ownership, location and network affiliation several more times over the years. In 1991, the programming switched to an all-talk format. Today, the station continues to run on AM 1370 under the Cumulus Broadcasting Company.
Other firsts for WCOA in Pensacola include: first FM station, first mobile reporting unit and first established emergency alert system.