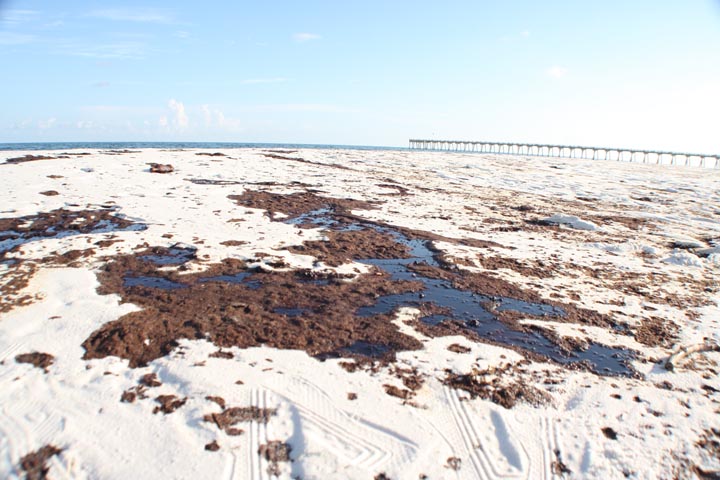 From The News Service of Florida
Northwest Florida counties moved closer Thursday to getting money the state received last year from the multibillion-dollar BP settlement tied to the 2010 Deepwater Horizon oil spill. The House unanimously voted for a pair of measures (HB 7077 and HB 7079) that would create a trust fund from which the BP settlement money would be available to the non-profit organization Triumph Gulf Coast and set a framework for how the counties most impacted by the disaster can use dollars.
However, the House and Senate must still agree on those uses.
"I think it's pretty close," said Rep. Jay Trumbull, a Panama City Republican sponsoring the House bills. "There are obviously some significant differences — the Senate version does have economic incentives. But we've done a lot of things that mirror the Senate's version."
Both chambers have proposed measures to allocate $300 million of the $400 million received last year to eight Gulf Coast counties — Bay, Escambia, Franklin, Gulf, Okaloosa, Santa Rosa, Wakulla and Walton — hit most severely by the disaster.
The proposals would also send to those counties three-fourths of the remainder of the $2 billion the state is expected to receive for economic damages associated with the disaster, which dumped millions of gallons of oil less than 100 miles off the Florida coast.
However, the House proposals go further than a Senate measure (SB 364) by imposing additional guidelines on how the money can be used to market Northwest Florida and to support broad economic-development projects.
Those issues reflect ongoing, larger philosophical differences between the House and Senate on business-recruitment and tourism-marketing issues. Sen. George Gainer, a Panama City Republican who is a co-sponsor of the Senate proposal, on Thursday said the differences were minor.
"I think we're like-minded as far as taking care of North Florida," Gainer said. "As long as we have that common denominator, I think we're going to be fine."
——-
Mayor Hayward's request for funds to be allocated directly to the cities is not part of the bill.
Key Points of the House Bills
Transparency: Triumph Gulf Coast will publish online a summary of each project or program and indicate its intent to approve the award.
More Representation: Two additional members are to added to the Triumph Gulf Coast Board from among the four least populous disproportionately affected counties–Gulf, Franklin, Wakulla, Walton. The House Speaker and Senate President will appointed one each.
Takes Care of Smaller Counties: At least 6-percent of the funds appropriated are expended in each of the eight disproportionately counties over the lifetime of the settlement agreement
No Bait & Switch: Awards may supplement, but not supplant existing funding sources.
How will affected counties be impacted:
Ad valorem tax rate reduction within disproportionately affected counties;
Local match requirements of s.288.0655 (Rural Infrastructure Fund) for projects
Approved Uses:
Public infrastructure projects that are shown to enhance economic recovery, diversification, and enhancement of the disproportionately affected counties;
Grants to local governments can be used to establish and maintain equipment and trained personnel for local action plans of response to respond to disasters, such as plans created for the Coastal Impacts Assistance Program;
Early childhood development and educational programs and services for children from birth to 5 years of age in the disproportionately affected counties;
Grants to support programs that prepare students for future occupations and careers at K-20 institutions that have campuses in affected counties – which include those that increase students' technology skills and knowledge; encourage industry certifications; provide rigorous, alternative pathways for students to meet high school graduation requirements; strengthen career readiness initiatives;
Fund high-demand programs of emphasis at the bachelor's and master's level designated by the Board of Governors and encourage students with interest or aptitude for science, technology, engineering, mathematics, and medical disciplines to pursue postsecondary education at a state university or a Florida College System Institution within the affected counties;
Grants to support programs that provide participants in the affected counties with transferrable, sustainable workforce skills that are not confined to a single employer;
Grants to the tourism entity created under s.288.1226 for the purpose of advertising and promoting tourism, Fresh From Florida, or related content on behalf of one or all of the disproportionately affected counties.