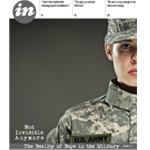 Tuesday night, the film "The Invisible War" won two Emmys — one for Investigative Journalism and another for Best Documentary — at the 35th Annual News & Documentary Emmy® Awards in New York City.
We covered in April 2013 the issue of sexual assault in the military and this award-winning documentary – Not Invisible Anymore.
Yesterday, Protect Our Defenders President Nancy Parrish released the following statement:
"We congratulate everybody involved with The Invisible War for bringing the epidemic of sexual assault in the military out of the shadows and into to the forefront of America's consciousness. The courage that our men and women in uniform showed by sharing their stories in this film is nothing short of remarkable. But, there is much more work to be done as the latest scandal at Ft. Leonard Wood has made painfully obvious. Multiple allegations of intimidation and threats of retaliation for soldiers reporting sexual assault are unconscionable.
"By the Pentagon's own numbers-less than 10 percent of victims choose to report their assaults. When stories like Ft. Leonard Wood emerge, we are reminded of why victims do not report. This is not an isolated incident: in 2012, 60 percent of victims who came forward faced retaliation. As the DoD report illustrates, it is far too common for victims of sexual assault to be threatened or punished for coming forward and reporting a sexual crime.
"Nobody should have to go through this sort of intimidation or retaliation for reporting a crime. It is time for our elected leaders and Pentagon brass to take real action and fix this broken system. Our troops deserve a professional and impartial justice system. A system equal to the one provided the civilians they protect."