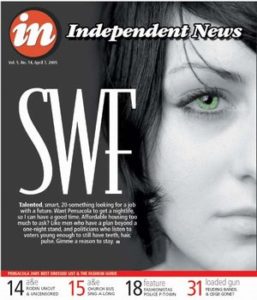 This issue set Inweekly in the direction of advocating for the young adults in our area. In the aftermath of Hurricane Ivan, Pensacola was rebuilding and looking for answers on how to attract young talent to the area and retain the talent that was already in the community. This issue sparked discussions that led to the Community Maritime Park referendum victory and the creation of the Pensacola Young Professionals.
SWF
by Rick Outzen, published April 7, 2005
SWF: Talented, smart, 20-something looking for a job with a future. Want Pensacola to get a nightlife, so I have something to do. Affordable housing too much to ask? Like men who have a plan beyond a one-night stand, and politicians who listen to voters young enough to still have teeth, hair, pulse. Gimme a reason to stay.
What's it like to live in P-town as a 20-something???
Great, right? You picture an easy life. No responsibilities. Partying all the time. Unlimited hookups. No cares. No worries.
Well, think again.
It ain't nothing like MTV's "Real World."
For most 20-somethings finding a job in Pensacola that pays more than $9 an hour is near impossible, unless you have a certain last name or know someone who does. Forget about buying a house. The "club scene?" Well, that's a misnomer; it's so small and so monotonous that you run into the same people over and over.
As Pensacola rebuilds from the ashes of Hurricane Ivan, community leaders have begun paying lip service again to making the area more attractive to people between the ages of 20 and 30–the 20-somethings.
But the powerbrokers don't really understand how to keep the area's most talented young adults from hightailing it to larger, more prosperous environs.
If the Pensacola area is truly serious about the 20-somethings, then somebody oughta talk to them. So, the Independent News did.
What resulted were insightful interviews, particularly about the challenges, both professionally and socially, that single white females face here. Want to read their interesting takes on the Community Maritime Park, local and national politics, the job market, the Iraqi war, nightlife and sex and relationships? Then, read on.
The Independent News isn't using their real names. Their responses are candid, honest, some times profound and thought provoking. It's a real world view into the lives of 20-somethings in Pensacola.
Why didn't we talk to guys? Well, it's not a story about sports, drinking and sexual exploits.
PSYCHED OUT
Sitting in a booth at the Scenic 90 Cafe, 27-year old Jen holds her coffee cup with two hands, savoring every sip.
After six years of college–four at the University of West Florida–she's giving up trying to find a job in her field–psychology. Her UWF master's degree makes her over qualified or under qualified for many jobs in the area. She's trying to get into a doctorate programs but keeps getting turned down.
She now works as a makeup sales consultant at the mall, making a measly $9 an hour. She'd like to teach HIV/AIDs prevention to middle schoolers.
The Gulf Breeze High School grad was married for a year when she was 22 to a guy she had dated for five years. Marriage is no longer a goal. Kids are definitely not in the picture. She doesn't date much.
Jen likes living in Pensacola. She enjoys the new locally owned restaurants, like The Global Grill and eat!, that are springing up.
She doesn't know a thing about the proposed Community Maritime Park, but likes the idea once it's explained to her.
She's a Democrat but did not vote in November's presidential election. She believes the United States has no business being in Iraq.
"Sometimes I feel like I wasted time with my degree. There are eight girls working with me. Only two of us have degrees.
It's so expensive to just live. I've got student loans to pay off. I've still got credit card debts from the months after my divorce when I was without a job. I've got a master's and I'm working for $9 an hour. Damn.
It seems like you have to know somebody to get a job in this town. The job market is bad! The money people want to hold us back.
My dream job would be to teach HIV prevention to middle school students. Larger cities have been successful in developing workable education programs that have been successful in reducing sexual activity, HIV and sexually transmitted diseases.
I think my husband asked me to marry him to cheer me up about not being accepted for any PhD programs. But once we did it, it was like: 'Who are you?'
Now, being self-sufficient is my goal. Before I can work it with somebody, I've got to make it work for me.
There's no one I want to seek out. I've always been the one asking the guys to go out. I just have no energy for dating, I'd rather go shopping.
I'm registered as a Democrat but I did not vote because my vote doesn't count. I really don't feel like I have any say.
Iraq? There are better ways to spend manpower and money without losing lives. I've never had any patriotic feelings."
OLD SOUL
Over beers at New York Nick's, a tall, slender brunette relaxes across from me–smartly dressed, bright-eyed and enthusiastic.
The 22-year-old Beth just began working for her stepfather. She graduated last year from Florida State University with a major in humanities.
She is fresh from a long day's work and talks excitedly about the sales she made that day. You can see she truly enjoys her job, as she describes in detail her store and the products she markets.
Beth loves Pensacola but she decries the lack of good jobs, affordable housing and entertainment. She isn't dating anyone steady currently.
She knows what is happening politically in town and nationally. She attended a public meeting on the Community Maritime Park and is now a big supporter.
"My stepdad is giving my stepsister and me a golden opportunity to learn his business. We all get along great. I am so grateful for this.
But we need more, better paying jobs. I'm the only one of my friends with a professional job. Most can only find work waiting tables. Getting a job in Pensacola is all about who you know.
I want to live in East Hill but I can't find a place I can afford. Why would someone my age ever move here?
The route on the bar scene gets old. Seville Quarter is too military. Capt'n Fun has a thug thing going on. I like Intermission, but seeing the same people gets old.
I'm very negative on relationships. It's a waste of time. I'm tired of guys whose sole aim is to take you home. Call me. Ask me out to dinner. Build a relationship.
Girls are too easy around here. My guy friends plead raging hormones. I'm not buying into it, but they can always find a girl who will.
I feel a little out of step with this time. I'm an old soul from another generation who loves words, reading and intellectual conversation.
I work hard to stay current on the issues. I feel a real challenge to prove myself and not to be what people think.
I like the proposed Trillium development but we have to move the Main Street sewage treatment plant. Once it's gone downtown will really explode."
MODEL OF SUCCESS
She's 10 minutes late. Not known for my patience, I'm about to get up and write this interview off as the 21-year-old Ally rushes into Barnes & Noble. The petite, head-turner apologizes profusely and we immediately begin the interview.
She graduated at the top of her class at Adult High and got a full ride to Pensacola Junior College. But she quit after three semesters to focus on her acting and modeling career.
Her average day starts late. She admits needing an alarm clock to wake her up–which explains why she was late for this interview. She spends two hours at the gym. When she gets home, she checks her e-mails from her booking agencies and scans Web sites for modeling jobs. She has done some local ads and has traveled to Atlanta, Orlando and New Orleans for photo shoots.
Want to ask her out? You have to pass a test first. Ally admits she asks all guys three questions before she'll even consider going out with them. 1. Republican or Democrat? (Republican is thecorrect answer). 2. Cats or Dogs. (She hates dogs.) 3. Children? Yes or No? (Better answer no. Women in her family don't raise kids so good.)
She's from a small Georgia town, so Pensacola is a big city to her. She loves the people, but hates the endless road construction, traffic woes and lack of parking at the beach. She doesn't think she will ever live here but will visit often.
Ally backs George W. Bush and follows national politics. But she pays no attention to local goings-on and only voted for president on her ballot.
"I'm not from here. I actually came to Pensacola alone when I was 17 to follow a boy I had a crush on. I enrolled at Adult High at PJC and found a lady who was renting a room. Then we broke up, of course.
I worked three jobs to support myself: hostess at Lone Star Steakhouse, front desk at Powerhouse Gym and sales at Parisian's.
Pensacola needs better jobs and more jobs that pay better. I'm going to have to move to get the modeling and acting jobs I want.
I took up modeling as a stepping-stone into acting, which is my first love. I want to make my mark on the world–star in a film, have a big ad campaign or be remembered for a beautiful photograph. I will not make excuses or just settle.
My favorite quote is: 'Find something you love to do, then find a way to get paid for it.' Modeling has given me some great connections and lovely photographs, which I can reflect on for years to come.
I only had three real dates last year. Meeting somebody at a bar for drinks is not a date. Or the best is: 'How about pizza and a movie at my house?' It's just a cheap way to get you to come over to their house. Guys are pigs.
Dating is a waste of time. I can't be distracted by dating someone seriously. I'd just start settling.
I just don't get into local politics. I don't know who the local candidates are, so it's not really my place to vote. I left those races to those who know more about the candidates.
Right now my career is the most important thing in my life. The rest will have to wait."
RELATIONSHIP QUEEN
The lunch crowd drifts out as 29-year-old Rhonda steps into Margarita's Downtown. She's the girl-next-door-type, wearing a simple white top and jeans.
Rhonda works for her stepfather. She started right out of high school and has been there 12 years.
She did graduate from the University of West Florida with a bachelor's in legal administration. But after clerking with the State Attorney's Office, she realized she hated working in an office.
She imagines herself going back to school to start another career, but admits she doesn't really like studying. She and her best friend like to discuss starting different businesses.
Rhonda bemoans the housing market here. And she also gripes about the poor job market.
Local politics just don't interest her and she hasn't heard about the Community Maritime Park. She doesn't read the daily paper or watch local TV news.
However, Rhonda did vote for Bush in November's presidential election and does support the Iraqi war. She believes Saddam Hussein needed to be ousted.
"My friends call me 'The Relationship Queen.' I hate dating. I went with my high school sweetheart for 10 years. Then I had a long distance relationship for two years with a Navy lieutenant stationed in San Diego. I just started dating a third guy from Orange Beach on New Year's Eve.
I really don't feel any pressure to get married. I'm just not ready. When I do, I want it to last. I only want to get married once.
My stepdad was going out of town. His office help had quit. He begged me to help run the store, while he was gone. I've been there ever since. I'd rather watch paint dry than work clerking in a law office.
My and my friend's latest idea is to open a shoe store, because Dillard's is about the only place to buy decent shoes around here.
We need better, more interesting jobs. We need something more than call centers. Unfortunately, Pensacola is about who you know and who knows your family.
Owning a home is completely out of my reach. I definitely can't live downtown. It's great to hear about $300,000 condos being built, but no one my age can afford them, unless they're doctors or lawyers.
I support Bush and I'm glad we're fighting the war over in Iraq and not here."
MADAM PRESIDENT
The 24-year-old Fay shares a plate of buffalo wings and a pitcher of beer with her boyfriend Eric, 22, as I begin to ask my questions. She is athletic, blonde and dressed in sweats. (Obviously, she went all out to impress me.)
Fay and Eric met at Hooters on Pensacola Beach where she was working as a bartender to pay her way through the University of West Florida. Eric was the fry guy.
She now handles a media/community relations job for a local organization.
The couple began living together in an East Hill townhouse three years ago. All the bills are split 50-50.
Both Fay and Eric have lived in Pensacola all their lives. Both grew up in very stable, secure families. Both sets of parents have been married more than 20 years.
Fay keeps abreast of what's happening in local governments. She plans to run for office in the future.
She voted in the last election. She supported the war with Iraq at first, but now says the United States should withdraw immediately.
"I want to own the world. I really want to run for political office someday.
I am an aggressive and assertive young female, but I don't have a famous last name. My daddy's not a bank president who can get me two steps ahead of the competition. I grew up on the West side. I have to work for it. It makes me more grateful for my job and proud of what I've done. I have earned it.
My field is public relations. I need to move into the corporate sector eventually, but there just aren't as many openings in Pensacola. We need more good paying jobs. More variety. Not everyone wants to work at a call center.
Pensacola seems to be either wealthy or poor. There is a very small middle class.
We have a large number of retirees who just want to say, 'No!' to everything. The old money wants things to stay the same. Few people really care about our age group.
Our families are very supportive of our relationship. There is no pressure for us to get married. We have talked about it, but we want to be more financially ready. It's funny, we get more pressure from our friends than our parents. We won't get married to make others happy.
We love to watch the Pensacola City Council meetings. The idiots that get up in front of the mikes are hilarious.
I love the Community Maritime Park idea. We need it. Baseball games downtown will be great. We're not going out to UWF to a Pelican's game, but we will go downtown.
We didn't find any WMDs. Our federal budget keeps growing, so does the deficit. And we keep cutting social programs. Bad governments have been killing thousands in Africa for years and we've done nothing about it. There seems to be no accountability.
No one listens to our age group. Leaders choose to not pay attention, but one day they will."
rick@inweekly.net