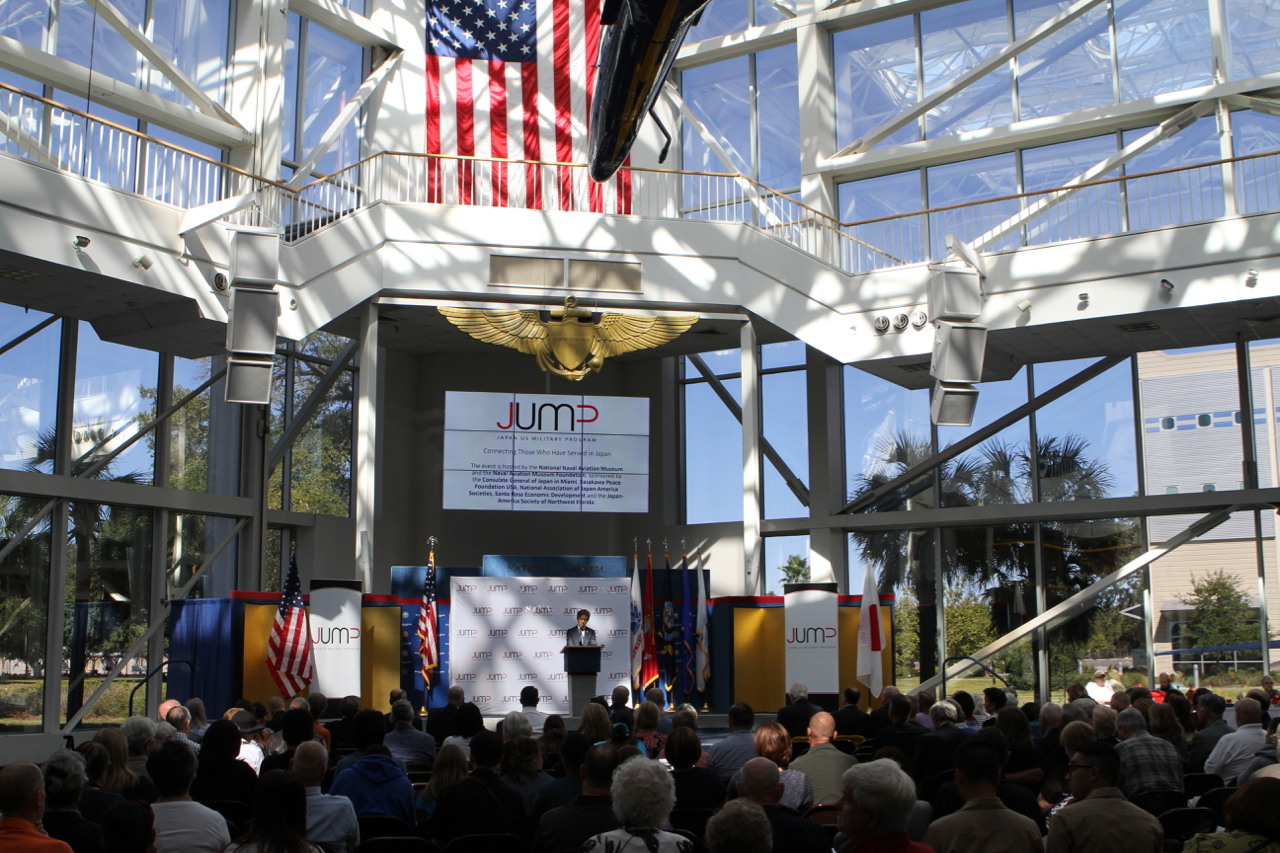 The fourth annual Japan-U.S. Military Program (JUMP) will take place at the National Naval Aviation Museum 1-4 p.m. Saturday, Oct. 6.
JUMP connects past and present service members, families, and government employees who have served at U.S. military bases in Japan. They have contributed to the unique alliance between the two countries, a relationship of unprecedented strategic and historic significance.
This event is free and open to the public, regardless of military service. The program will begin at 1 p.m. in the Blue Angels atrium, followed by a reception on the USS Cabot flight deck until 4 p.m.
Featured speakers will include the Honorable Kenji Hirata, Consul General of the Consulate General of Japan in Miami; Ambassador James Zumwalt, CEO of the Sasakawa Peace Foundation USA; and Commander Barnet Harris, Commanding Officer of Training Squadron Three (VT-3) at NAS Whiting Field.
Japanese cultural displays will include performances of Japanese taiko drums and shakuhachi bamboo flute. Before the program, visitors can browse "reunion" tables of memorabilia from U.S. bases at Okinawa, Sasebo, Iwakuni, Yokosuka, Atsugi and Misawa.
Launched in 2015, JUMP is a collaborative effort between Sasakawa Peace Foundation USA, the Embassy of Japan in the United States and the National Association of Japan-America Societies. By building relationships and providing opportunities for service members to engage with each other, JUMP provides a powerful foundation for sustaining the solid alliance and relationship that exists between the U.S. and Japan. The National Naval Aviation Museum has hosted JUMP in Pensacola since 2015, in coordination with the Japan-America Society of Northwest Florida.
Reservations are appreciated but not required. For more information, email info@jasnwfl.org or visit jasnwfl.org.