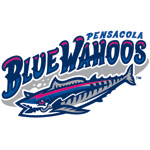 The Blue Wahoos got their first update on how Kazoo is doing in the highly-competitive "Mascot Mania" contest that is going on. Through Wednesday night's voting, Kazoo is in first place for the entire Southern League and all of Double A baseball.
Donna Kirby, the team's director of Promotions & Community Relations sent out this message:
We're on a roll, and we're not even out of Round 1 just yet. Please continue voting, sharing with family and friends, asking anyone who will listen to vote … and, we will be bringing home the Mascot Mania Championship Belt to Pensacola! WAHOO! You have two ways of voting – and, please feel free to share these with whomever you'd like to … the more, the merrier.
Two Ways to Vote:
1. On MiLB.com: Click "Vote" to vote for a mascot, or click below to jump to another league. Click on any mascot's name or photo to learn more. Vote for mascots in one or more leagues, then submit your ballot at the bottom of the page.
2. Via Twitter: Follow @MiLB, tweet the hashtag #MascotMania, and include the Twitter handle of the team whose mascot you want to vote for. Retweets count, too!
Vote as many times as you like on MiLB.com and up to 25 times daily via Twitter per Twitter's policies.
· League Round: July 18 – August 1
· Championship Round: August 1 – August 8