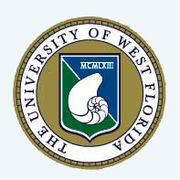 After today's board of trustees meeting for the University of West Florida, the Lewis Bear Family Foundation presented UWF president Dr. Judy Bense a check for $1 million. The gift will support the UWF engineering department and supply chain logistics program.
"This gift will build an eternal legacy at UWF by helping to train the future logistics professionals and engineers in the region," said UWF President Judy Bense. "The entire Bear family truly understands the importance of investing in education."
Lewis Bear, Jr. said, "This is our opportunity to do something for the community. Our family believes that there are no great cities without a great university."
The Bear family is contributing $700,000 to engineering, which is emerging as a distinctive department for the University. The gift will advance the University's ability to align programs with workforce needs in the region and provide opportunities for students in high-wage fields important to Northwest Florida.
The University's engineering programs are fully accredited by the Accreditation Board of Engineering and Technology. ABET accreditation is the "gold standard" for quality in engineering programs. Student teams in the engineering department regularly place in national and international competitions.
The Bear family is allocating $300,000 of the gift to fund an Endowed Professorship in Supply Chain Logistics, which will enable the program to continue to recruit and retain top faculty in the discipline.
"We hope to be able to help this University grow to meet the needs of the 21st century job market, not only for today but for the future," Bear told the audience.