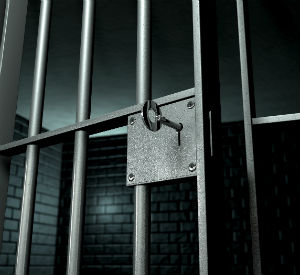 Since Nov. 1, 2014, the Escambia Board of County Commissioners has had six deaths in its county jail, three of which were suicides.
Nationally, around 80 percent of all local jails have no deaths in a year, according to the Bureau of Justice Statistics. Less than seven percent have two or more deaths. If a death happens in a city or county jail in Florida, there is a one-in-ten chance it will happen in Escambia County.
Why? The report of the May 27, 2015 death of inmate Rodney Jamel Berry, 53, appears to point to the jail infirmary.
Berry was arrested on Feb. 14 and was awaiting trial for two car burglaries in motel parking lots on Pace Boulevard. In each incident, he stole tools and other property valued less than $100. His trial was set for June.
Records that Inweekly obtained, via a public record request, give the details of Berry's last hours.
The correction officers and his fellow inmates tried to get medical help for Berry, but the infirmary would only place him on a sick call list for later in the day. He died having vomited and defecated on himself repeatedly for nearly seven hours.
Jason S. Slusser, Green Three Module Operator, reported that at 11:50 p.m. he heard banging from the Orange Pod. An inmate told him that he needed a mop and bucket because another inmate was vomiting. Officer Bo Nesmith toured the pod 10 minutes later. He took Berry to the jail infirmary to be evaluated by medical staff. At 2:30 p.m., Nesmith told Slusser and Field Training Officer Lonnie Pugh that Nurse Ashley Palmer had cleared Berry.
Slusser and Pugh went to medical triage to pick up Berry. When Slusser asked the inmate how he was doing, Berry did not respond.
At 3:58 a.m., Pugh called Nurse Palmer and notified her that Berry was vomiting again.
At 4:12 a.m., inmates notified Slusser and Pugh that Berry had defecated on himself. Pugh called Nurse Palmer again, who transferred the call to the Infirmary Nurse. Nurse Debbie Smiley told him that Nurse Palmer had already seen the inmate and there was nothing more that could be done.
At 4:35 a.m., Pugh called Nurse Palmer again and asked if she would check on the inmate. The nurse said she had to pass out medications and would stop in and check Berry after that. Pugh then notified Sgt. Martin Wolff of the problem. Sgt. Wolff came to Orange Pod, was briefed by Pugh, and talked with Berry and other inmates. Wolff reported that inmates told him that the area stunk badly and that Berry needed to be removed from the pod. He said that Berry was sitting at a table making grunting noises. Wolff left the pod after about 20 minutes.
At 5:01 a.m., Nurse Palmer visited Orange Pod and talked with Berry. She didn't talk with Pugh or Slusser before returning to the infirmary.
At 5:07 a.m., Sgt. Wolff went to the nurse supervisor's station.
"I pled my case about Inmate Berry and the difficult time he appeared to be having," he later reported. Sgt. Wolff told Nurse Smiley that Berry had defecated himself and the pod reeked. The sergeant told the nurse that Berry's stomach was bloated. He was grunting and shaking.
Nurse Smiley told the sergeant that Berry would be given diapers, and there was nothing more that she could do for him. Berry was being placed on the sick call list and would be seen later in the day.
At 5:17 a.m., Sgt. Wolff called Pugh that he had contacted medical staff and had been told Berry would be seen in sick call by the ARNP that day. The sergeant told Pugh to document the information in the logbook and to continue to monitor Berry.
At 6:25 a.m., Officer Nesmith began the distribution of breakfast. Inmates told him that an inmate in Bunk 3, Berry, was vomiting and having difficulty breathing.
When he entered Orange Pod, he saw Berry sitting upright on his bunk. Nesmith said Berry's name several times as he approached him, but the inmate was unresponsive. As the corrections officer got closer to him, he smelled feces, which he described as an "intense and disturbing stench." The smell was so overwhelming the officer became nauseous.
After he regained his composure, Nesmith tried to check Berry's vital signs. He was unable to detect a pulse on Berry's carotid artery. He did detect a slight movement in his upper sternum and a slight flare in his nostrils. Nesmith made the call "Medical Emergency Green 3 Orange Pod." He continued to try to communicate with Berry until the medical staff arrived, which was approximately 6:30 a.m.
Garland M. Lee, Orange 2 escort officer, responded to the medical emergency. He arrived with nurses Palmer, Deborah North, Shari Gulley, Stacy Taylor, Trudy Fortune, and Catherine Harrison. All inmates had been removed from the pod, except for Berry, who was still sitting upright in his bunk. Medical staff moved him to the floor and detected no pulse, so they began CPR. They hooked Berry to the AED and started chest compressions.
Lee relieved Nurse Gulley for the fourth round of chest compressions. Then Gulley replaced him after Berry aspirated and cleared his mouth to open his air way. Lee watched the nurses continue to work on the inmate until EMS arrived. Berry was pronounced dead at 6:47 am.
At 6:48 a.m., Sgt. Wolff contacted the Escambia County Sheriff's Officer about the inmate death. Berry's family was notified at 9:07 a.m.
At 11:59 a.m., the Escambia County Public Information Office issued this statement:
"A 53-year-old black male was found unresponsive at the Escambia County Main Jail at approximately 6:30 a.m. on Wednesday, May 27. The inmate was pronounced deceased a short time after being found unresponsive."
The medical examiner later ruled the cause of Berry's death was coronary atherosclerosis, in other words, a heart attack.