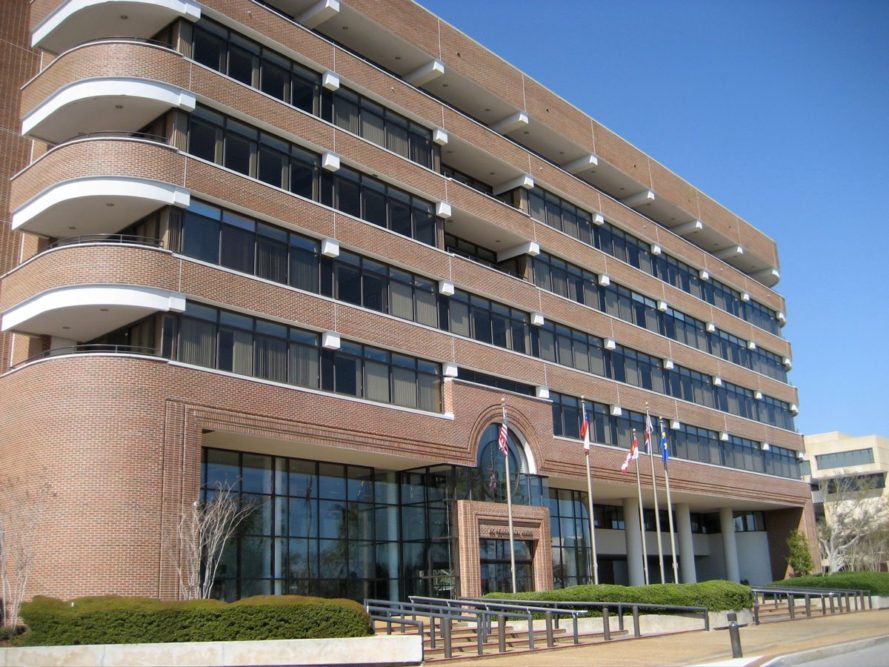 Pensacola Mayor Ashton Hayward issued today an open letter regarding the legal fees regarding the fight over the Pitt's Slip leases.
"Once again stories of the City's legal fees are circulating. Those stories do not give you all of the facts regarding the City's position and its defense of lawsuits which have been brought against it by others.
Read the letter here."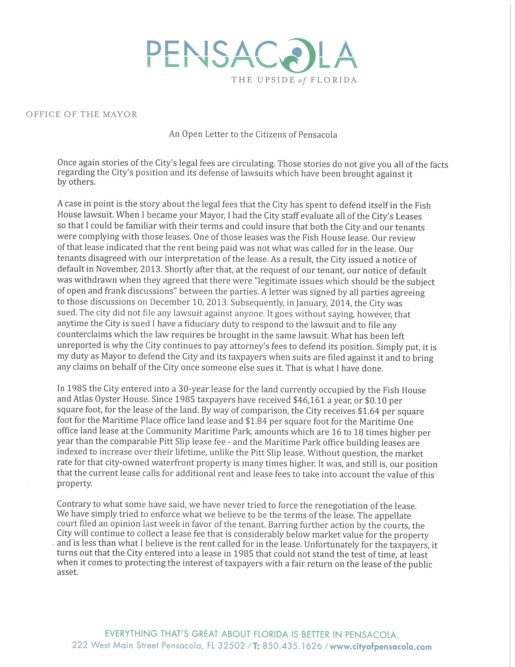 ---
Mayor Ashton Hayward's statements given to News Journal regarding this issue over the past four years:
After the City withdrew its default letter that it leaked to the media:
"The city is not backing down. I am pleased that Mr. Merrill and Mr. Russenberger have now agreed that there are legitimate issues which exist related to the Pitt Slip lease. Now, because of the agreement, we are able to have an informed discussion."
—Mayor Ashton Hayward, Pensacola News Journal, 11 Dec 2013.
When the Judge Scott Duncan ruled against Mayor Hayward:
"We've been defending ourselves. We didn't sue anybody. No one wants to litigate, no one wants to go to court. The last thing I want to do is waste taxpayers' money."
—Mayor Ashton Hayward, Pensacola News Journal, 08 May 2016
When Mayor Hayward filed the appeal:
"We didn't want to lose our leverage by not appealing. I do think there's a deal that can be done and we're hopeful we can work that out with Mr. Russenberger."
—Mayor Ashton Hayward, Pensacola News Journal, 03 June 2016
The City fights paying The Fish House's legal fees:
"Obviously, we were sued, and we have to defend the citizens. Unfortunately, in a lawsuit you have fees, and it's our position that we don't owe them."
—Mayor Ashton Hayward, Pensacola News Journal, 27 July 2016
Judge rules City must pay Russenberger's legal fees but not the Merrill's:
"We're bound by the rule of law. Most importantly our position hasn't changed from the original. The judge entered an order, which we honor, and the judge ordered that we have to pay Mr. Russenberger's fees. That was very clear and we're looking into that right now."
—Mayor Ashton Hayward, Pensacola News Journal, 17 August 2016
Mayor Hayward loses appeal:
1) "These are people that I've known for a long time, and it's never pleasant for anyone when you get sued by a friend and supporter."
2) "I'm going to discuss our legal options with our attorneys in order to determine how we'll move forward."
—Mayor Ashton Hayward, Pensacola News Journal, 02 June 2017