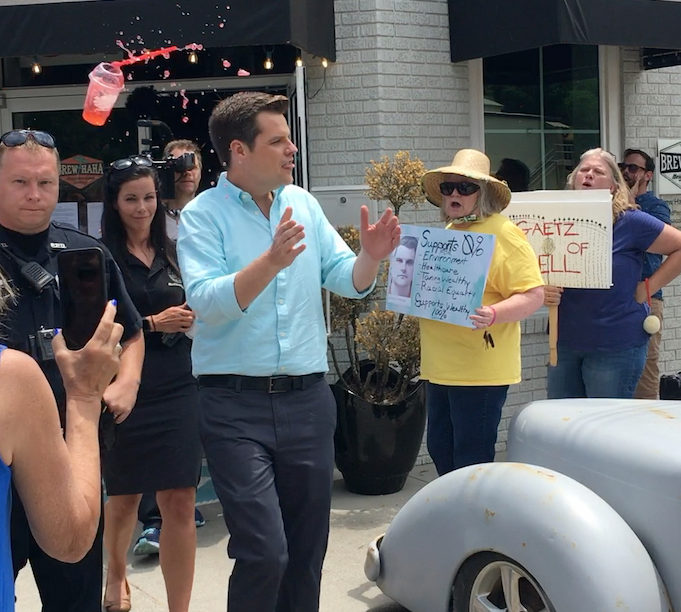 By Jeremy Morrison, Inweekly
U.S. Rep. Matt Gaetz, (R-FL), knew to expect the protesters as he walked out of his town hall event in Pensacola Saturday afternoon. But he looked pretty surprised about the drink of red liquid lobbed at him.
Gaetz was finishing up with the second of three public events in the region — dubbed the Won't Back Down Town Hall Tour — over the course of the day, when he and his staff exited Brew Ha Ha on 12th Avenue in East Hill to the chants of protesters. The protest had been going strong since before the congressman's arrival hours earlier.
As Gaetz walked to his black Suburban parked outside, a plastic cup containing red liquid was thrown towards the congressman. The drink, lid still on it, hit the representative, who immediately turned to identify the person who he believed to have thrown it.
Once Gaetz was in his vehicle, members of the Pensacola Police Department approached a protester who had walked across the street to a nearby parking lot. They ended up arresting 25-year-old Amanda L. Kondrat'yev, handcuffing her and placing her in a police cruiser.
Pensacola Police Capt. Kristin Brown said shortly following the incident and arrest, that the department is still assessing the situation, but that Kondrat'yev faces a simple battery charge, which is a misdemeanor and carries a potential penalty ranging from a fine to up to one year in jail.
---
Inweekly reporter Jeremy Morrison caught the incident on video:
---
Congressman Gaetz's office issued the following statement Saturday afternoon:
"All people are invited to participate in our #OpenGaetz town hall events regardless of viewpoint. If anyone assaults anyone else, they can expect to be arrested and prosecuted to the fullest extent of the law to ensure the security of all law-abiding participants. We continue to express our deep gratitude to the brave law enforcement officials who always keep our events and our community safe."

Office of congressman Matt Gaetz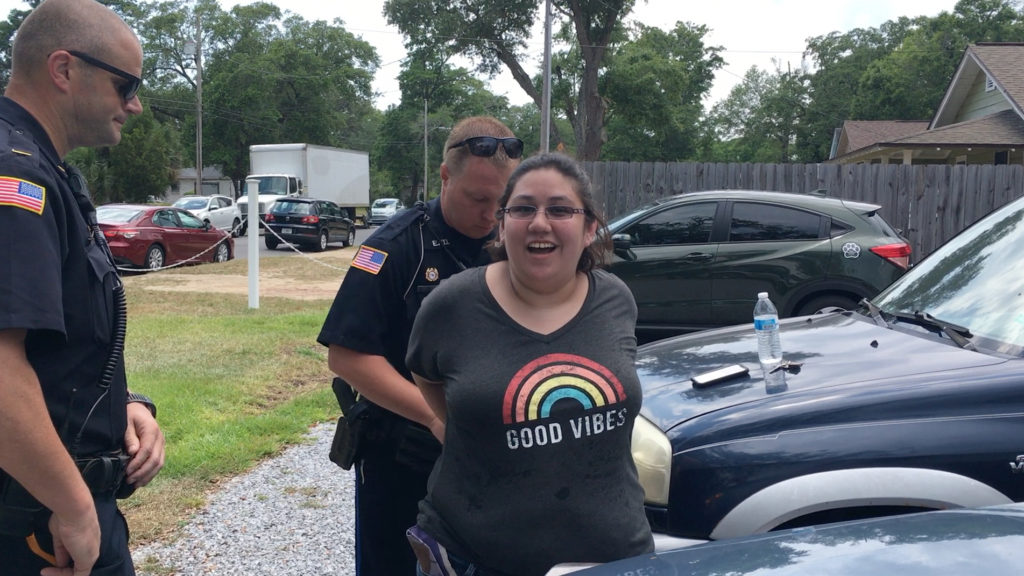 — For the complete story detailing Rep. Gaetz's Pensacola event, check out the next issue of Inweekly.