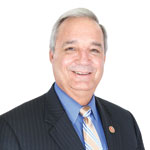 On Pensacola Speaks yesterday, Congressman Jeff Miller, who represents Northwest Florida, said that running for U.S. Senate next year is not up for discussion.
"I have a number of people who have contacted me and encouraged me to look at it," said Miller, "and I will tell that there are a lot of people in the (Florida) delegation that are looking at it."
What about Miller running? He said the "phone lines had been burning out" over the past few days, but he's not interested.
The congressman said, "That's not even a discussion that I'm considering right now."
Rep. Miller did talk, before a NOAA Flood warning knock us off the air, about the importance of the Republican controlling the Senate seat held currently by Marco Rubio.
"I know the most important thing is we come out with a strong candidate that can win," he said. "We don't need to lose this Senata seat. The only candidate the Deomcrats have right now is a 32-year-old (Rep. Patrick Murphy), who can self-fund this race."
Rep. Miller said, "He's not the kind of person that will represent Northwest Florida well."