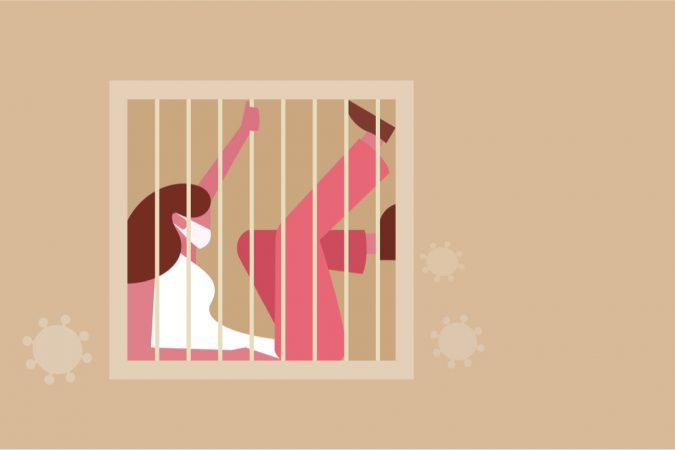 In July, Inweekly received a letter signed by 53 female inmates in Escambia County's work release building pleading to be tested. Last week, the inmates of Work Release Building Dorm Three wrote the newspaper again about the conditions in the facility.
"We, as women of Dorm Three, have been exhibiting symptoms of COVID-19 for over a month, and we're being told that they are treating us as if we are positive by quarantining us," wrote the prisoners. "We are begging to be tested."
At the Aug. 27 special board meeting, Commissioner Robert Bender asked Corrections Chief Powell about the testing in Dorm Three.
"I know you sent somebody out there that day to check on the ladies and to offer testing," said Bender," And it came out again this week that they're still claiming that they haven't been tested. Can you expand on it?"
"There's no cells at the work release center that is under observation," said Powell. "If we were to test them, we need to pull them out of the population in case they were positive, to limit the further of the spread."
Bender continued, "And my understanding is that when you've gone into Dorm Three and asked them if they wanted to be tested, they have declined testing."
"Yes, sir. That's a true statement," said the corrections chief.
Bender asked how many had been tested in Dorm Three, and Powell didn't know. The chief couldn't tell the commissioner if any of the females had been tested.
"Have we tested any?" asked Bender.
Commissioner Lumon May asked for clarification, "The ladies that signed the letters and sent to all the commissioners, all that have signed that letter were offered testing, correct?"
"Absolutely," said Powell. "We went in there and then literally asked them to please step forward for it to be processed and be tested."
Commissioner May said, "And they refused."
"And absolutely, they refused," answered the chief.
Bender addressed him, "Again, because it was being reported on, I just wanted to make sure I followed up with you when we got the initial letter. And so they're stating that they're still being quarantined and—"
Powell interrupted, "We have no units under observation at this time as of this morning. The last one was released yesterday."
He added that corrections staff were only being tested if they showed any COVID symptoms. He said, "We're not testing any of our employees per se."
Commissioner May asked, "So any of our staff employees can be tested at any time, they could be tested?"
"Yes," replied Powell. "As you know, at one period, we had over 80 employees that were out, either positive and/or symptomatic or contact tracing. We were down to, I believe six, yesterday morning."
Commissioner May followed up, "And I just want to, just for the record, any employee that wants to be tested can be tested at any given time, whether they show symptoms or not.
Chief Powell said, "We've not put any restriction on them."