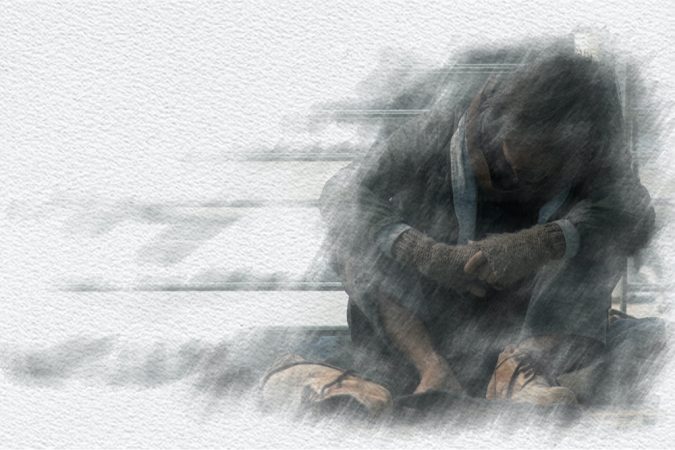 by Jeremy Morrison, Inweekly
A leading homeless advocate took city officials to task this week, telling them that municipal efforts to address the issue of homelessness are falling short.
"Y'all are not addressing homelessness," said Mike Kimbrel. "It's very frustrating."
Kimbrel, the director of the Alfred Washburn Center and co-founder of Satoshi Forest, both of which serve the area's homeless community, had been invited to the Pensacola City Council's agenda conference Oct. 19 by Councilwoman Sherri Myers to speak about the recent installation of benches at Pensacola City Hall, but the conversation quickly evolved into a discussion about the city's efforts to address the issue of homelessness.
"It's paramount that we address this holistically and from every angle," Kimbrel said.
Pensacola Mayor Grover Robinson pointed to efforts launched in 2019 between the city and Escambia County, as well as organizations serving the homeless community, as evident of the city's intent to address the issue. He said that the coronavirus pandemic had stalled that conversation this year.
"It's been one of the more challenging times that we've had," Robinson said.
The mayor said that ultimately "a whole series of different small solutions" would need to be realized in order to have an impact on homelessness — mentioning day centers and tiny houses, among other potentials — but also that such efforts would need to be coordinated, both logistically and budgetarily, with entities such as Escambia County.
"Everybody's going to have to buy into it," he said. "That's the only way it's going to be sustainable."
But Robinson also focused on what he described as a monopolization by homeless people of the Martin Luther King, Jr., Plaza downtown on Palafox.
"All these spaces are public," he said. "That means they are open to all the people, they are not to be monopolized by a certain group of people."
And the mayor mentioned that the downtown business community was not pleased with the scene and that there had been a number of instances — a stabbing at a restaurant, tire slashings and a homicide — that were raising concerns and creating a "conflict of space."
Mayor Robinson suggested other locations to be used by organizations working to provide food to the homeless community, such as in Hollice T. Williams greenway, a healthy distance from the downtown core.
And as for the new benches — benches that Kimbrel said were installed to "lure the homeless to city hall" — the mayor said they were an improvement on the existing offerings.
"I do believe that they are considerably more comfortable than the current slabs that are out there that were probably archetiectuly designed to keep people from sleeping and sitting and doing other things," Robinson said.
Kimbrel disagreed.
"They are unsightly," he said. "There doesn't seem like there was much planning to it. One of the benches is facing a brick wall."
As did Councilwoman Myers: "We're getting ready to do millions of dollars of streetscaping and we put in benches like that?"
But these new benches severed only as an impetus for the wider discussion. Kimbrel used the opportunity to point toward $50,000 in the city's budget dedicated to address the issue of homelessness and described it as "kind of insulting."
"It's pennies," he said.
And also to suggest that some financial responsibility may lie with private downtown business owners.
"What we need is compassion and what I'm hearing — and I hope you don't take offense to this Mr. Mayor — but I'm hearing more interest in what the business community feels on this," Kimbrel said. "And the business community, at this point, needs to put up. They need to put some money on the table."
Council members seemed generally sympathetic to Kimbrel's argument. Myers said the city needed to find the "political will" needed to commit, President Jewel Cannada-Wynn pointed to the need for a day center in her district, and Councilman Jared Moore told Kimbrel that, "I appreciate how you've dedicated your life to improving the situation."
"We're going to have to put this on the top shelf, and deal with it at once," concluded Councilman John Jerralds.