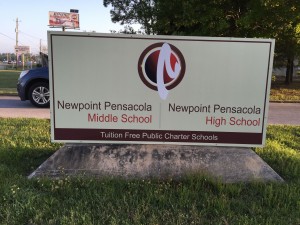 Newpoint High School sent out a press release late this afternoon denying the allegations of grade tampering.
The school said, "These allegations are baseless, unfounded and utterly false."
The school said that the insinuation that changing grades is the reason for the school's A grades was also false and misinformed. According to the school, the state grading formula is based only on the student's scores on state assessments, and not related to classroom grades. "Therefore, there is no correlation between false allegations of grade tampering and the school's success as an 'A' rated school."
Contrary to Deputy Superintendent Norm Ross' claim that Newpoint has been under investigation for two weeks, the school said that it had not been notified of any formal investigation and had not been approached by the district for any documentation related to questions regarding grading. The school agreed to cooperate with district representatives.
The school blamed the allegations on a "disgruntled former employee" whom the school said had been recruiting employees to spread negative messages to the district and others with the intent of getting the administrators fired.
The memo ended with: "We encourage the district and the community to make sure that they have all the facts before drawing conclusions based on any misinformation spread with the sole purpose of harming the school."