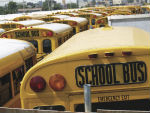 Earlier this month, the commanding officer of Naval Air Station Pensacola informed a chamber of commerce luncheon that the Navy was facing challenges attracting families to serve in the Pensacola area due to the educational landscape.
On Monday, Escambia County School Board Chairman Patty Hightower met with CO Capt. Tim Kinsella to discuss the issue further.
"I thought it was a great conversation," Hightower said Wednesday morning.
The school board chairman said that she and Capt. Kinsella discussed items such as how the school district and Navy might better inform military families of already existing options, such as the ability to enroll a student in a school other than that for which they are zoned.
"We made some plans about some things that will hopefully help in the future," Hightower said.
Hightower said that, in particular, she thought the district could better convey information to military families. The district has a military liaison on staff, and also a dedicated section on its website catering to military families, though the chairman conceded that information wasn't easy to find.
"You've got to know what you're looking for to find it and sometimes even then it's difficult," she said.
Hightower said that she planned to bring the issue up to the school board in November, suggesting that the district improve its delivery of information.
Another issue discussed, one that the school board chairman said she was unaware of previously, was the matter of some servicemen choosing to leave their families behind when stationed at NAS.
"He made the comment that it might be because of the schools they were districted to," Hightower said.
The two nearest schools serving NAS, located in Warrington, are both D schools. There is the option of school choice, but when alternative schools fill up that option disappears.
During his Oct. 10 remarks, Kinsella specifically mentioned the concept of creating a charter school that serves military families. Hightower said she was open to the idea of a charter, but that she wasn't sure that was the best route to take — not to mention that the chairman is only one vote on the school board.
"As I told him, I'm a school board member, I'm one of five," she said. "I can make some suggestions and we can have some discussions, but I can't make anything happen."
Following Kinsella's comments, other school board members have assumed a somewhat defensive posture, with Superintendent Malcolm Thomas calling the CO's assessment "disparaging" and "disappointing."
"In using educational jargon," said school board member Paul Fesko on Tuesday, "it's just not fun being under the bus sometimes."
Fesko, the school board member representing the district serving NAS, noted that many Navy families utilize the district's school choice option — "they choice out, they're going to schools elsewhere" — and said that he had not heard from any constituents about the issue.
"I've never had a person in the military contact me to tell me, 'hey, my kid's not getting what they need,'" he said.
Fesko also serves on the Greater Pensacola Chamber's military affairs committee, and has discussed the issue of local education challenges with Capt. Kinsella previously.
"It was surprising that the captain would make the comment he did in that public forum," Fesko said.
Fesko stressed that military families should look at more than just a school's grade — either assigned by the Florida Department of Education, or a third party website, like greatschools.org — and that plenty of students in Escambia receive quality educations and continue on to further academic and professional success.
"Our kids got a great education," Fesko said, pointing out that his own children excelled academically while attending struggling west side schools, where his wife was working at the time.
After conceding there were certainly areas the district could improve upon — "We are committed to that mission and will continue to focus on improving!"— school board member Dr. Laura Edler expressed similar sentiments.
"I have received all of my education in Escambia County and done well!" Edler wrote in an email. "Children today, military or not have more opportunities and choices than ever before. I suggest the Captain appreciate the many great educational opportunities children have within our District, learn more about the positive aspects of the overall educational system and assure our service women, men and families that our mission is a quality education for all children."
Inweekly has reached out to NAS for further comment from Capt. Kinsella, but has yet to receive a reply.
— To read more about NAS's challenges with local education and Escambia's response, check out this week's issue of Inweekly.