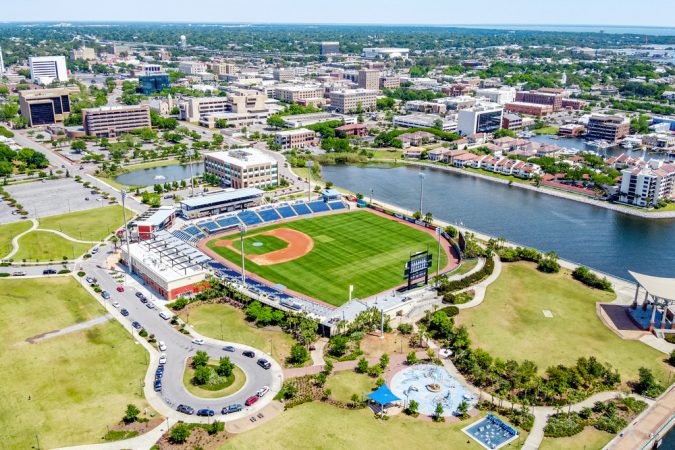 City Council to Consider Maritime Park Development
by Jeremy Morrison, Inweekly
As Pensacola City Council President Jared Moore said earlier this week, Thursday night's discussion regarding a development proposal for Maritime Park will likely be "robust." And that's really saying something, considering that an off-the-rails preview discussion during Monday's agenda conference was, in the words of Councilwoman Sherri Myers … "out of order!"
"Hold on, hold on! We can't all shout," Moore attempted to calm tensions between Myers and Mayor Grover Robinson on Monday. "I don't really think it's appropriate to throw the you're-out-of-order while screaming 'out of order,' I think we've probably all got pie on our face if we play that game."
On the table is a potential a deal — an MOU, or memorandum of understanding — with development firm Carson Lovell for parcels four and five at Maritime Park, where the firm's proposal calls for components such as a parking garage and conference center, as well as residential and retail spaces. Mayor Robinson is recommending the council reject the potential deal because of its reliance on public rather than private funds.
However, during Monday's agenda conference, the firm's Greg Darden told council members that they were looking at a "very generic MOU" that the city administration did not offer the firm the opportunity to refine.
"It's verbatim the same package that the city council looked at previously," Darden said, referring to the the firm's initial pitch for the development.
In an effort to present to council a more specified version of the MOU, Darden suggested a number of revisions. Chiefly, he said the city should assess individual components of the project separately, with priority given to the parking garage; and also that the MOU process be split into three phases — input, planning and budgeting, and presentation of a final contract — with each proceeding phases requiring council's approval, the city liable only for completed phases and with the city retaining any work performed during such phases.
Darden's presentation — requested by Councilwoman Jennifer Brahier — did not sit well with Mayor Robinson.
"I want to give the factual what happened," Robinson said, requesting a rebuttal
The mayor went on to say that the administration's negotiation process with Carson Lovell "didn't go anywhere" and that ultimately the project amounted to a "square peg with a round hole" due to the funding issues.
"The council doesn't negotiate," the mayor said, waiving off an assertion that the firm had just laid out some additional revisions and specifics for council to factor into the MOU.
"Out of order," Councilwoman Myers told the mayor.
"You're out —" Robinson began.
"No, I'm not out of order," Myers cut in.
"You are way out of order," the mayor replied.
"You are out of order!" Myers shouted.
This is when President Moore called for cooler heads
"We can have this conversation civilly, and we're obviously in a grey area here," Moore concluded. "There's no reason to get fired up."
City council, as well as Mayor Robinson, will continue this discussion regarding the potential Maritime Park development during council's regular meeting Thursday at 5:30 p.m. at Pensacola City Hall, where things will probably get … "way out of order" and "fired up."