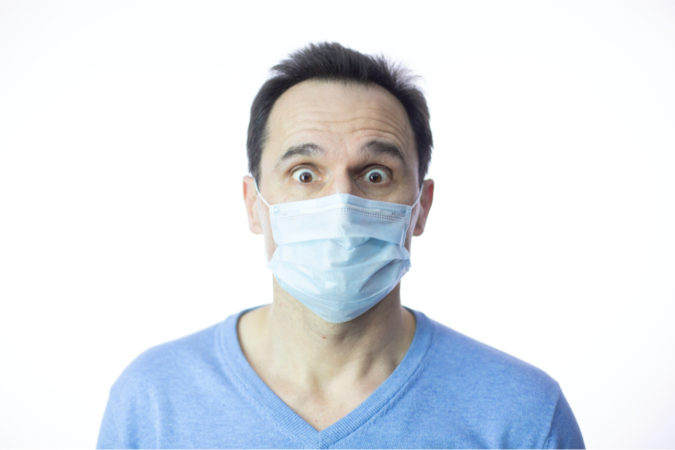 As of 11 a.m. yesterday, long-term care facilities in Escambia had 142 individuals staff members that had tested positive for COVID-19 and have accounted for 38% of all the county's resident cases, according to Dr. John Lanza, DOH Escambia director.
The statement was part of a virtual briefing for the media Thursday afternoon.
Escambia Emergency Operations Center held the briefing, via Microsoft Teams, to explain why it was discontinuing its report on testing.
"Right now is as it stands, DOH is getting the best information for the media and for the public to see what's going on in their county," said Eric Gilmore, county's emergency management director. "As of right now, my understanding is that test results are coming back within 24 to 48 hours…So we're going to cease doing the afternoon specimen collection report because the DOH board is getting much more robust."
An initial issue with DOH and the county was the reports weren't capturing all the negative results. Gilmore said DOH is now reporting all he negative cases from commercial, private, and state laboratories.
He said, "Not only that, DOH does a better job of identifying the individual by zip code and placing them in the County that they're in. As I said, our data, we still are not clear if we're getting a hundred percent Escambia, a hundred percent or just Escambia and Santa Rosa."
Another reason the county wants to stop reporting on the testing is the state wants to show the 14-day trending of downward before recovery phases outlined by the White House start.
Gilmore said DOH has complete control of any positives or fatalities that are reported. He said, "We weren't allowed day one to report a fatality or report a COVID positive case without DOH saying so."
Dr. Lanza, said, "The department has been expanding our use of our software, one that we've used for a long time now called Merlin, trying to integrate the positives and now the negatives along with the contact tracing information. For just Escambia County, we were trying to estimate how many contacts that we've been tracing with the 400 plus cases. And we're approaching probably around 8, 000 folks that we have come in contact with. We've made contact with to see how they're doing. And that takes we're looking at 25 plus of my staff members during work hours and after work hours to keep up with that. And it's increasing every day."
One drawback on depending on the the DOH dashboard, it's dependent on what DOH Escambia enters – which is only the results reported to them. The public won't know how many specimens are waiting to be tested. The specimens collected at Attucks Court, Southern Oaks, Rosewood, Acadia and other nursing homes aren't tracked by DOH.
"We wouldn't have any information from the specimens that are collected if they are sent to the private labs," said Dr. Lanza. The pending data on the DOH Dashboard is the Bureau of Public Health lab pending information. "So you can't look at that as gospel if you want to put it that way for really the number that are pending because we don't know how many have been sent necessarily to the private labs. We only know what is on hand at the Bureau of Public Health labs."
Inweekly asked whether the EOC would return to reporting nursing home information on the SitRep.
"At the DOC level, we're not tracking that," said Gilmore. "I do know the state is tracking that. I'm sure Dr. Lanza's tracking that. He's got teams just doing daily calls. But we're not seeing that because those are state missions."
He turned to the DOH Escambia director. "Dr. Lanza, is there anything that you might put on the sitrep for assisted living facility or is it something that the state's kind of monitoring themselves?"
Lanza said, "Every piece of data is reported from the state and it's on the dashboard or on that 585 page supplement to the dashboard."
Inweekly later pressed for the pending to include the collections done by the mobile units of Community Health and Ascension Sacred Heart.
"Pending on the state or the local one?" asked Lanza. "Because they're not going to be on the state one because if the specimens collected went to an outside lab, we're not going to know how many were collected until the results come back either positive or negative, which by law have to be reported to the Department of Health. So until the results actually start coming back, we're not going to know."
Inweekly has set up a spreadsheet to track the trends on COVID-19, but it's imperfect because of the fluctuations in how the data is put in the system.
DOH reports the combined percentage of positives for Escambia and Santa Rosa counties is 7.2%. Reviewing the reports through last night, positives have being trending upward – 9.3% for the week.   The outliner is yesterday – 357 new cases entered and one less positive.
| | | | | | | |
| --- | --- | --- | --- | --- | --- | --- |
| | DOH | New | | New | Positive | |
| | Tests | Cases | Positives | Positives | % | Collections |
| 18-Apr | 6437 | | 437 | | | |
| 20-Apr | 6729 | 292 | 454 | 17 | 5.8% | 164 |
| 21-Apr | 6968 | 239 | 478 | 24 | 10.0% | 467 |
| 22-Apr | 7413 | 445 | 562 | 84 | 18.9% | 639 |
| 23-Apr | 7770 | 357 | 561 | -1 | -0.3% | 0 |
| | | 1333 | 2055 | 124 | 9.3% | 1106 |