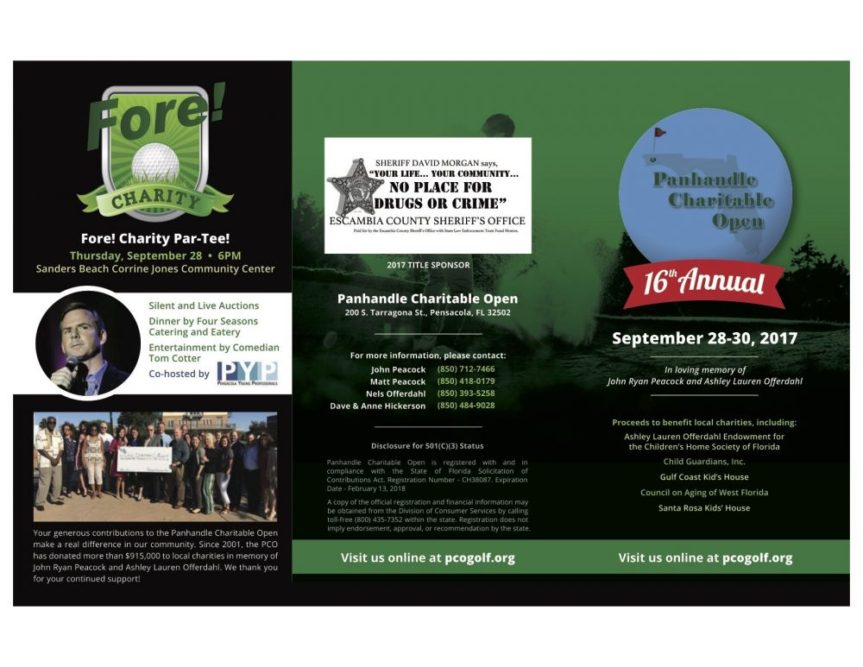 The Panhandle Charitable Open is less than two months away. Chairman John Peacock invites you to participate.
From John Peacock:
Dear Friends,
Thank you so much for all of your wonderful support over the past 15 years! The Panhandle Charitable Open (PCO) set another record last year by donating $210,000 to local charities thanks to the amazing generosity and support of people like you!!
It has always been said that small businesses are the backbone of the economy. I would like to add that non-profits are the heart and soul of our community and they need our help now more than ever.
It is time once again to start planning for our community's biggest charitable golf tournament! We need your help! We will be in touch personally but I wanted to get this information into your hands as soon as the brochure was available.
We are about 2 months away from the 16th Annual PCO. The tournament was originally established in memory of my son, John Ryan Peacock. Starting this year, the tournament will be in Loving Memory of John Ryan and also Ashley Lauren Offerdahl. We hope you join us in honoring their memory and turning tragic losses into an opportunity to give back and help others.
Since 2006, we have contributed over $915,000 to local charities. We need sponsors, donors, and players in order to make this year the most successful yet. The website, pcogolf.org, is currently under construction and should be up and running with a new and improved format in the next couple of weeks. If you have any question please give me a call at 850-712-7466.
This tournament uses a 2-day, 2-person Best Ball format which is unique to charity tournaments. The tournament will be held Friday, September 29th and Saturday, September 30th. We will again play two different courses!! The John Ryan Peacock Bracket will play Friday afternoon at Stonebrook Golf Club and finish Saturday morning at Marcus Pointe Golf Club. The Ashley Lauren Offerdahl bracket will plan Friday afternoon at Marcus Pointe Golf Club and finish Saturday morning at Stonebrook Golf Club.
The FORE! Charity Par-Tee is at Sander's Beach Community Center on Thursday, September 28, 2017. America's Got Talent Finalist and Comedian Tom Cotter will be our entertainment!
We welcome your participation in the 16th Annual PCO as we continue to build this event into the premier charity golf tournament in the panhandle!
Thanks in advance!!
John