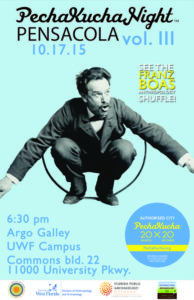 Press release: PechaKucha Pensacola and the Florida Public Archaeology Network are hosting volume 3 of PechaKucha Pensacola to celebrate International Archaeology Day. Several different experts from the University of West Florida Division of Anthropology and Archaeology will present 20 images and 400 seconds of time on their hands to discuss the exciting work they do in their subfields of anthropology.
The third conference will be October 17th at 6:30pm at the UWF Argo Galley located on the University of West Florida main campus in Commons building 22. This conference will coincide with the Archaeological Institute of America's International Archaeology Day. Anthropology incorporates natural science, social science, and humanistic approaches in the study of human beings. The University of West Florida Division of Anthropology & Archaeology has one of the most dynamic and active programs in the country. The sub-fields of anthropology include studying everything from underwater shipwrecks to the evolution of the human species.
About PechaKucha Pensacola: Similar to TED Talks, PechaKucha is a non-profit organization based out of Tokyo. Only 779 cities in the world have hosted these conferences. Pensacola became the 770th city to partner with PechaKucha this summer and is usually hosted at First City Art Center in Pensacola. The main concept of PechaKucha is to encourage thinking and ideas. It's an organization for content, rather than profit.
The presentation format was devised by Astrid Klein and Mark Dytham of Klein Dytham architecture. The first PechaKucha Night was held in Tokyo in their gallery/lounge/bar/club/creative kitchen, SuperDeluxe, in February, 2003. Klein Dytham architecture still organize and support the global PechaKucha Night network and organize PechaKucha Night Tokyo. PechaKucha Pensacola
About First City Art Center: First City Art Center is a prominent working art center that cultivates economic and cultural growth for our region.The Center provides opportunities for people to create through glassblowing, glass bead making, clay sculpting, pottery on the wheel, hand-built pottery and music lessons for youth, with a continued emphasis on expanding offerings. FCA also conducts three popular and successful major fundraising events annually, with work by First City artists and guest artists. The Center's new home is located in the old water works building in the Long Hollow neighborhood at 1060 N. Guillemard St.
About the Florida Public Archaeology Network: The Florida Public Archaeology Network is dedicated to the protection of cultural resources, both on land and underwater, and to involving the public in the study of their past. Regional centers around Florida serve as clearinghouses for information, institutions for learning and training and headquarters for public participation in archaeology.
About International Archaeology Day: International Archaeology Day, being held on October 17 in 2015 but fêted throughout the month of October, is a celebration of archaeology and the thrill of discovery. Every October the Archaeological Institute of America and collaborating archaeological organizations across the United States, Canada, and abroad present archaeological programs and activities for people of all ages and interests. Whether it is a family-friendly archaeology fair, a guided tour of a local archaeological site, a simulated dig, a lecture or classroom visit from an archaeologist, interactive, hands-on International Archaeology Day programs provide the chance to indulge your inner Indiana Jones and be an archaeologist for the day.