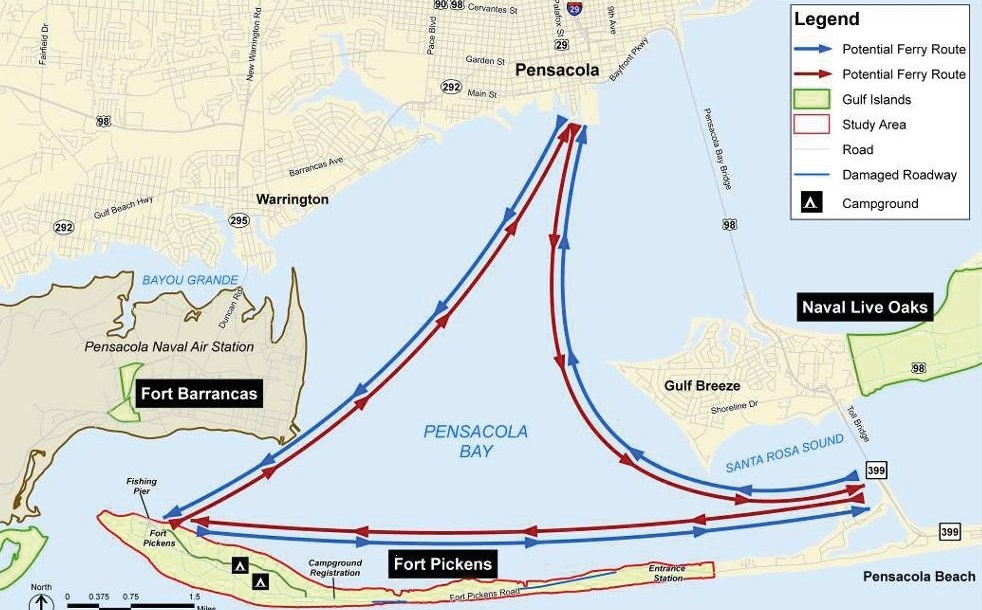 Last week, Gulf Islands National Seashore, City of Pensacola, and Escambia County officials announced the delay of the Pensacola Bay ferry service which had been scheduled to begin this spring. All partners continue working toward a spring 2018 startup.
Two factors are the lack of an acceptable vendor to operate the ferry service and the increased construction costs for the ferry facilities in downtown Pensacola.
In pursuing the original 2017 target, the National Park Service received and evaluated two bids to operate the ferry service, unfortunately, neither bid was acceptable. During follow-up interviews with several interested operators, a number of concerns were identified which discouraged them from submitting bids. The current status of departure site facilities, uncertain ridership and revenue history, and other unknown costs were contributing factors which are being evaluated by all three partners so they can be addressed.
The city and county are continuing to work toward completion of their waterside and landside departure site facilities. Possibly the city and county may be able to identify significant cost savings by coordinating their contracting efforts and by allowing for longer bid, award, and constructions timelines, according to the National Park Service.
"We are disappointed that we are not going to begin the ferry service this season as we had hoped," said Park Superintendent Dan Brown. "The delay is certainly not due to a lack of effort on any of the three partners, but rather by the extremely tight timelines created by a 2017 startup."
The three partners and Santa Rosa Island Authority met on Friday, January 13, to share status updates, and review the remaining tasks and revised timelines to achieve a spring 2018 startup.
The ferry service is the third major project for the City had has been delayed.
VT-MAE was originally scheduled to be competed mid-2016. According to the city's website, it will be operational in early 2018.
The Government Street Stormwater Project was also delayed a year after it was re-designed to handle more water and the construction costs exceeded the grant funds. City Administrator Eric Olson recently told the City Council the new completion date is May 31.
A fourth project, DeepFlex, was completely dropped last summer due to changes in the crude oil market. The City is looking for another use for the warehouse.