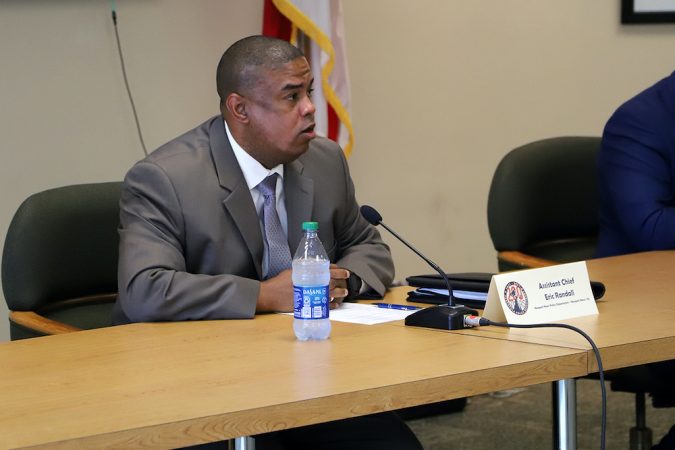 by Jeremy Morrison
Eric Randall will be Pensacola's new police chief, following Pensacola City Council's approval on May 13 of Mayor Grover Robinson's selection of the city's top law enforcement officer.
"Welcome back to Pensacola," city council President Jared Moore told Randall, following the candidate's unanimous approval by the council.
Currently serving as assistant chief of police with the Newport News Police Department in Virginia, Randall grew up in Pensacola, where he graduated from Booker T. Washington High School before pursuing a career in law enforcement.
Though the city council's approval of Randall was unanimous, some members expressed reservations. Councilwoman Sherri Myers said she had poured over the selection committee notes to discover why local candidates with experience within PPD—specifically interim chief Kevin Christman and former PPD chief David Alexander —were passed over.
"I was hoping to find something in their notes that would enlighten me as to why the mayor chose someone who has not been affiliated with our police department," Myers said, soft-lobbying for the local candidates. "Just looking at their qualifications against the other people, for the life of me, I cannot understand why one of those was not chosen."
But then Myers met personally with Randall and warmed to the candidate.
"I had a great conversation with him," she said, adding that it was still a tough call. "I did not come to the decision easily, and it still weighs heavy on my heart."
The councilwoman said that she was encouraged about Randall's arrival after digging into his work in Virginia. She said she's hopeful that the new chief will bring the same energy and initiatives to Pensacola.
"I'm hoping, and I've said this to him, that he will have the freedom to bring a lot of good things to the city of Pensacola, and based on my conversation with him, I believe that he will," Myers said.
Mayor Robinson selected Randall from a slate of three finalists for the position. The hometown candidate will take the helm of the Pensacola Police Department on June 14.
21st Century ReBranding
Pensacola will be scrubbing Confederate iconography from Pensacola Police Department uniforms, vehicles and other materials. But it remains to be seen when such imagery will be removed or how much the effort will cost.
Pensacola City Council members voted unanimously this month to set aside nearly $300,000 to replace badges and other items featuring the Confederate flag — until recently, part of the city's five-flags line-up — but will wait until the September budget season to dig deeper into this issue.
Eric Randall, selected minutes earlier as the city's new police chief, weighed in on this issue, describing it as "something that has to dealt with."
"When you talk about 21st Century policing, just think about all that went on last year in 2020 with the protest and the country calling for these symbols to be removed and how can we, as the face of the government, the most visible face of the government each and every day, as public safety professionals, walk around with this symbol, this symbol that has caused so much consternation in communities across this country?" the new chief said.
Randall told city council members that he would appreciate the opportunity to take a look at how best to go about a PPD "rebrand," and they appeared to agree, ultimately earmarking the needed funding and tabling a decision until the fall.
"We're right here on the cusp of it; let's let him come aboard," Councilwoman Jennifer Brahier suggested waiting for Randall to get to town this summer and assess how best to proceed.
Randall told the council that he looked forward to taking on the task.
"If we're gonna rebrand, we've got to rebrand right," Randall said. "The community has asked for this, and coming in as the new chief, it is a task that I'm going to take on because we have got to rebrand our police department for this 21st Century policing. It is critically important if we want to be a community engagement agency not to be able to stand in front of children and others and have these symbols on our uniforms."