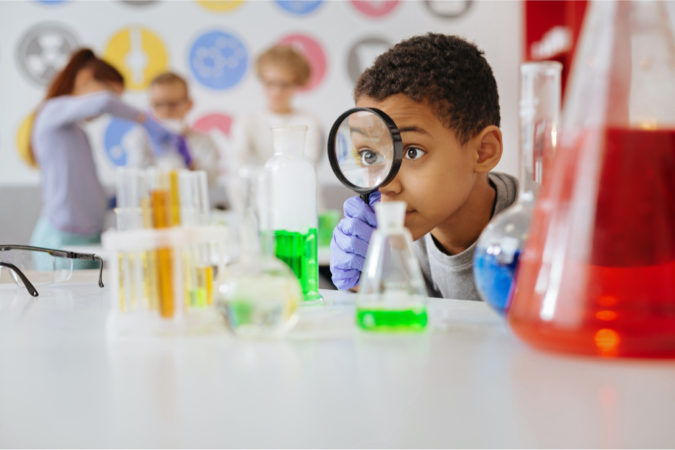 After temporarily closing its doors in March to protect the health and safety of visitors, staff, and volunteers, the Pensacola MESS Hall has officially reopened to the public. The MESS Hall is operating at reduced capacity and with new measures to help reduce the spread of coronavirus.
This summer, visitors will investigate Our Planet: Past, Present, and Future. This special exhibition, created by the MESS Hall, celebrates the 50th anniversaries of Earth Day, EPA, and NOAA. Hands on activities and informational signage explore information about how scientists study the Earth, how Earth changes, and the accomplishments of the last 50 years. In addition, visitors are challenged to consider what we can accomplish for the Earth in the next 50 years.
To help ensure public safety, timed admission reservations are required. Families will schedule to visit during two hour blocks between 10 AM – 5 PM Tuesday through Saturday. Following each time block, MESS Hall staff will clean the facility to prepare for the next group. Each visitor group will be provided their own materials, including disinfecting spray and hand sanitizer, to help contain any possible spread. Family groups will also receive their own materials for the hands on exhibits. All staff and volunteers will wear masks, and visitors are requested to follow CDC guidelines for masks.
"The pandemic has had a devastating impact on our community and the broader world," said Megan Pratt, executive director. "It has, however, reminded us of the importance of our mission and vision to create a scientifically literate society who can understand critical issues facing us. Our priority continues to be the health and safety of our visitors, staff, and volunteers, and we have created policies and procedures based on the best available science. We look forward to sharing science with our visitors when we reopen."
In addition to welcoming families, the MESS Hall is holding summer camps. These camps engage learners in deeper discovery and encourage them to explore new topics. Camps are for students entering grades 1-6. Information and registration are available at pensacolamesshall.org/summer-camps/.