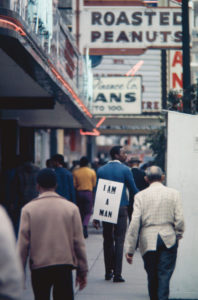 Historic Civil Rights photographs by acclaimed photojournalist Art Shay and eclectic works by the Pensacola State College Visual Arts faculty are on display at the Anna Lamar Switzer Center for Visual Arts Jan. 20 – March 13.
A world class, street photographer and writer, Shay spent more than 70 years as a Chicago-based freelance photographer for national magazines such as Life, Time, and Sports Illustrated. His gripping Civil Rights images from the 1960s are on display, accompanied by narratives produced by PSC History Department faculty and students.
Shay, who will turn 93 on March 31, also photographed famous figures of the 20th century including nine U.S. Presidents from Herbert Hoover to Ronald Reagan. His award-winning works are included in the permanent collections of top museums including the National Portrait Gallery and The Art Institute of Chicago.
The perennially popular PSC Art Faculty Exhibition is also on display. This exhibit includes a variety of mediums such as ceramics, sculpture, jewelry, drawing, digital imaging, graphic design, painting, photography and video.
The public is invited to meet PSC art faculty at a reception 6 – 8 p.m. Thursday, Jan. 29, at the Switzer Gallery, located on the PSC Pensacola campus at the corner of 9th Avenue and Airport Boulevard
Admission is free and the gallery is open from 8 a.m. to 9 p.m. Monday through Thursday and 8 a.m. to 4 p.m. Friday. Tours are available with prior arrangements.
For more information, call the Visual Arts Gallery at 850-484-2550.