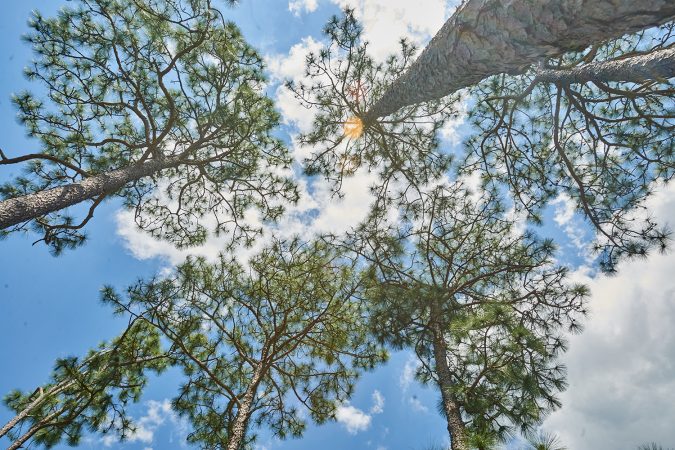 Plantings Rooted in Hurricane Sally Damage
by Jeremy Morrison
To replenish the area's tree canopy, the city of Pensacola will be planting approximately 300 trees between now and February. The tree plantings are meant as compensation for trees lost during Hurricane Sally in 2020.
"After the devastating loss of several hundred trees during Hurricane Sally, I'm very excited to see this plan moving forward to replace trees that were lost or severely damaged in the storm," said Mayor Grover Robinson.
This tree planting effort officially kicked off this year on Arbor Day with the planting of two trees in Parker Circle Park and is a component of the City of Pensacola Tree Refurbishment Plan. The plan is designed to replenish the city's tree canopy, which is environmentally beneficial for issues like erosion, stormwater and temperature reduction.
"Trees are such a vital part of Pensacola's beautiful landscape, and it's imperative that we continue planting trees that can be enjoyed by our citizens for generations to come," Mayor Robinson said.
The city is funding this tree-planting effort with money from its so-called tree trust fund. The Pensacola City Council has authorized using up to $150,000 from the fund for this project.
The city will be planting these hundreds of trees in a collection of public parks. Though the inventory of trees for the individual parks — spread throughout the city's seven districts — has yet to be determined, the involved parks include Baars, Bayview, Belvedere, Bryan, Camelot, Eastgate, Fairchild, Fort George, Greenwood, Granada Subdivision, Gull Point Center, Rev. H.K. Matthews Park, Hitzman-Optimist, Lavallet, Malaga, MLK Plaza, Tech Park, Pineglades, Pintado, Plaza Ferdinand, Roger Scott Athletic Complex, Semmes, Toledo Square, Victory 1 and 2, Zamora Square.
Currently, the city is in the process of determining which trees should be planted in which parks. To assist in this task, they have contracted with Geosyntec Consultants to test the soil at each city park and determine the appropriate course for each property. Elements the consultants will consider include wind tolerance, soil conditions and drought tolerance. Geosyntec's services are running the city $34,595, with that money stemming from the city's recent infusion of pandemic-related federal dollars from the American Rescue Plan Act.
City spokesperson Kaycee Lagarde said that as the city determines how many and what type of trees will be added to the landscape at each of these properties, more specific information will be released.